Coronation Street spoiler sees horror car crash for Imran and Toyah amid custody drama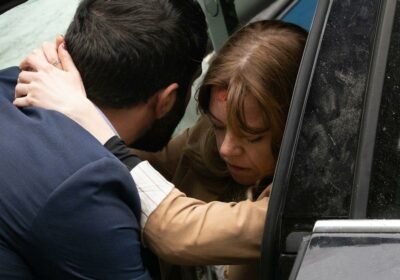 It's a week of drama in Weatherfield as Kevin (Michael Le Vell) agrees to help Abi (Sally Carman) make her escape. But disaster strikes and she realises the game is up.
In the meantime, Imran (Charlie De Melo) is having a crisis of conscience, while Kelly sides with Abi in trying to persuade him to do the right thing. Knowing he's already in the wrong after bribing Ben to lie in court, Imran crumbles and decides to come clean. There's trouble ahead, though. How are Kevin and Toyah (Georgia Taylor) going to react when they start to unravel all of Imran's lies?
Later, we see a horrific car crash – and both Toyah and Imran are lying in the wreckage.
As Imran drags Toyah's unconscious body from the car, an ambulance arrives. The police are convinced the crash was no accident and question Kevin about it, as he had been working on the car. Kevin tells Abi he wants them to get back together again and that they will fight for baby Alfie, no matter what happens.
There'll also be flashback to the lead-up to the crash. What really happened in those fateful moments?
Kevin helps Abi with her plan to flee the country with baby Alfie.
In a change to usual transmission times the soap will air half an hour episodes Monday to Friday at 7.30pm, as we follow the shocking consequences of the custody fight.
Imran Habeeb struggles with his guilt when Kelly accuses him of bribing Ben to lie in court.
As the battle for Alfie intensifies between parents Abi and Imran, residents of the street will face the consequences in an unmissable week which promises chaos and carnage on the cobbles.
OK Fav soap poll
This dramatic week of episodes starts with a flashforward of Imran leaving a chilling message for Toyah in which he reveals everything.
As we move back and forth the action centres around a horrific car crash which leaves both Toyah and Imran lying unconscious in the wreckage.
Toyah and Imran Habeeb lie unconscious in the wreckage following a car crash.
Imran pulls Toyah from the wreckage begging her not to die as the ambulance arrives at the crash scene.
Abi and Kevin Webster are horrified to learn about Imran and Toyah's accident.
Kevin tells Abi he wants her back in his life for good. But what does the future hold for them?
For all the latest cast updates and juicy Corronation Street spoilers, sign up to our daily OK! Newsletter.
Coronation Street airs Mondays, Wednesdays and Fridays at 8pm on ITV.
Source: Read Full Article