Colton Underwood's Dad Weighs In on His Coming Out Ahead of 'Coming Out Colton'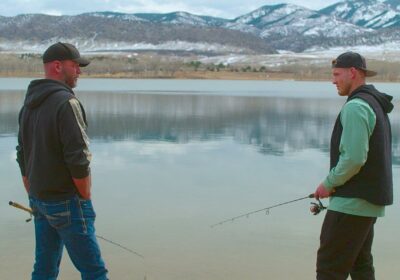 The intimate moment between the father and son duo will be included on Colton upcoming Netflix docuseries 'Coming Out Colton', which is set to arrive on December 3.
AceShowbiz –Colton Underwood is set to get candid about her coming out journey in his upcoming Netflix docuseries "Coming Out Colton". Ahead of the series, his father Scott Underwood opened up how he wished the moment when Colton came out to him was kept private.
"I'm not saying I'm upset about it, but I would have preferred it had been done differently," Scott told the New York Times. He, however, understood that it came with his son's job as an "entertainer," saying, "That's what he's chosen to do for his career."
Scott continued, "Am I going to say it's for fame? No. Did he come out on TV for money? Sure. But who in reality entertainment doesn't leverage their life and put it all out there for money?"
The said intimate moment will be included on the series as the trailer sees Colton making the bombshell revelation to his dad when they are fishing together. "I guess basically what I'm trying to tell you is I'm gay," he says, before adding, "Since confronting it, this is the best I've ever felt."
In the trailer, the former "The Bachelor" star also shares, "I didn't want to be gay. And the main voices in my head were just telling me, 'You'll get through this, you'll get through this, you'll get through this.' " The ex-boyfriend of Cassie Randolph added, "Everybody's coming out stories are different. I'm grateful to be able to add my story to the conversation."
"Coming out Colton" will follow the former Bachelor, who came out as gay during a sit-down interview with Robin Roberts on "Good Morning America", and his journey to right his "wrongs" by addressing his previous struggles with confronting his sexuality. The docuseries launches on December 3 on Netflix.
Source: Read Full Article