Coleen Rooney enjoys a spot of afternoon tea with Her Majesty — at Madame Tussauds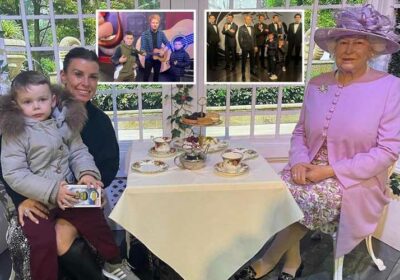 COLEEN Rooney was Queen of the Wags when she posed for afternoon tea with Her Majesty — at Madame Tussauds.
She and her former England star husband Wayne treated their four boys to a Christmas trip to the waxworks museum and took selfies with the fake celebs.
Kids Kai, 12, Klay, eight, Kit, five and three-year-old Cass mimicked The Beatles on their Abbey Road album cover.
And Cass hopped onto Coleen's knee as she pretended to have a natter with the Queen.
The older boys posed with famous wax figures including Wayne's favourite singer Ed Sheeran, a host of James Bond stars, top, and actor George Clooney.
Young Klay also had a bike ride with Hollywood blockbuster alien ET at the London venue — and met 1920s silent movie great Charlie Chaplin.
Delighted Coleen, 35, posted pictures of the visit on social media, adding: "Thank you for a great day and looking after us @madametussauds. We loved it."
A source said: "The kids are used to people always wanting to stop their mum and dad and take pictures, so they really enjoyed getting selfies with lookalike celebs.
Most read in Showbiz
SHOCK DEATH
Il Divo star's cause of death revealed as he suddenly passes away age 53
Gemma Collins looks slimmer than ever in rare picture with stepson
Furious Emily Atack hits back after crude troll praises her 'nice t**s'
Coleen & Wayne Rooney finally move into £20m mansion after FOUR years of delays
"Wayne enjoyed checking out the waxwork sports stars including his mates Joe Hart and Steven Gerrard. He was checking out how realistic they both were."
Derby County boss Wayne, 35, has previously had a waxwork of himself at the Madame Tussauds attraction in Blackpool — which was given a makeover in 2013 to reflect his hair transplant.
And in 2006 another model of him unveiled ahead of the World Cup did not quite look the part and was later voted one of the worst footballer waxworks.
We pay for your stories!
Do you have a story for The Sun news desk?
Email us at [email protected] or call 0207 782 4104. You can WhatsApp us on 07423 720 250. We pay for videos too.
Click here to upload yours.
Click here to get The Sun newspaper delivered for FREE for the next six weeks.
Source: Read Full Article