City of Lies trailer: Johnny Depp new movie follows Tupac and Biggie murder investigations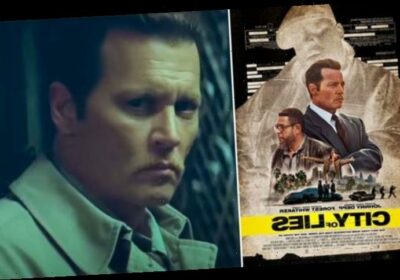 City of Lies: Johnny Depp stars in trailer for 2018 film
When you subscribe we will use the information you provide to send you these newsletters.Sometimes they'll include recommendations for other related newsletters or services we offer.Our Privacy Notice explains more about how we use your data, and your rights.You can unsubscribe at any time.
Originally set for release in 2018, Johnny Depp's City of Lies is finally arriving in the next few weeks. The trailer landed yesterday on the 24th anniversary of Biggie Smalls aka Christopher Wallace's death by drive-by shooting at the age of 24-years-old. The case remains unsolved to this day alongside fellow rapper Tupac Shakur, who was murdered in the same way in Las Vegas the year before aged 25.
Based on Randall Sullivan's 2020 Pulitzer Prize-winning book LAbyrinth on the Tupac and Biggie murder investigations, the film follows Depp as real-life LAPD detective Russell Poole, who worked on The Notorious B.I.G case in 1997 before forming a private detective agency two years later.
In City of Lies, Forest Whitaker's journalist Jackson, based on Sullivan's collaboration with Poole, teams up with the former cop almost two decades after Biggie's death to find the truth.
In reality, Poole had called on law enforcement to reopen investigations into Tupac and Biggie's murders before he died of a heart attack in 2015.
While Sullivan himself is now working on a follow-up book to re-examine the murders a quarter of a century later.
City of Lies, which was shot between 2016-2017, was originally given a release date of September 7, 2018, marking the 22nd anniversary of Tupac's murder.
However, the movie was postponed and eventually premiered in 2019, out of competition, at the Italian Noir in Festival as the event's closing film.
Depp's movie then received a limited release in Italy including on Blu-ray in June later that year.
Now Saban Films have taken over the distribution rights, with City of Lies finally scheduled for a March 19, 2021 release followed by one on PVOD on April 9, 2021. While a UK release for the long-delayed crime thriller movie is yet to be announced.
Johnny Depp resigns from role in Fantastic Beasts
Another recent Depp release was 2019 movie Waiting for the Barbarians, in which he played one of the film's villains Colonel Joll.
Based on the 1980 novel of the same name, Joll inspects Mark Rylance's Magistrate at a frontier outpost of an unnamed Empire.
Last year, Express.co.uk spoke with Depp's co-star Gana Bayarsaikhan, who plays a beaten colonised native that the kind Magistrate takes pity on and cares for.
The actress highlighted how the 57-year-old star was "really humble" and "kind" on set. Gana added: "Off camera, he talked to everyone, he was really nice."
DON'T MISS
Johnny Depp Pirates of the Caribbean return petition hits target [PIRATES]
Pirates of the Caribbean's Mr Gibbs Kevin McNally praises Johnny Depp [JOHNNY DEPP]
Pirates of the Caribbean: Margot Robbie teases her 'EXCITING' spin-off [PIRATES 6]
Depp has more recently starred as real-life photojournalist Eugene Smith in the new movie Minamata.
Smith famously documented the effects of mercury poising on the people of Minamata, Japan.
The UK release was set for February 12, but the film has since been delayed due to the on-going pandemic.
Depp's future in Hollywood beyond these latest releases remains uncertain after losing his libel case in the UK courts against The Sun newspaper, who had referred to the star as a "wife-beater" – an accusation that Depp strongly denies.
Since the ruling, Warner Bros have asked Depp to resign from playing Grindelwald in the remaining Fantastic Beasts movies, which he agreed to.
The 57-year-old had only shot one scene of Fantastic Beasts 3 before being replaced by Mads Mikkelsen.
Meanwhile, Depp's continuation as Captain Jack Sparrow in the Pirates of the Caribbean franchise remains unlikely anytime soon.
The Hollywood Reporter wrote that producer Jerry Bruckheimer had hoped the star could cameo in Margot Robbie's upcoming Pirates spin-off, but "Disney balked" at the suggestion.
Source: Read Full Article