'Chicago Fire' Season 10 Finale: Kelly Severide and Stella Kidd's Wedding May Bring Trouble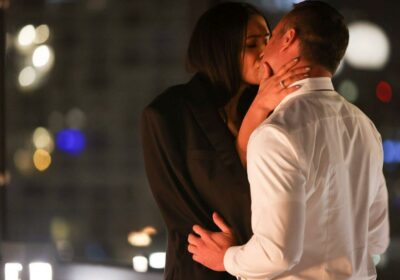 NBC's Chicago Fire Season 10 finale is right around the corner. And fans can't wait to see what's in store for their favorite cast members. This past season heavily focused on Kelly Severide and Stella Kidd's relationship. The couple had their difficulties when Kidd worked on Girls on Fire, but now, they're engaged and ready for marriage. Unfortunately, it sounds like they may face trouble on their big day.
The 'Chicago Fire' Season 10 finale features Kelly Severide and Stella Kidd's wedding
Kelly Severide and Stella Kidd got re-engaged earlier this season. It's now confirmed that the Chicago Fire Season 10 finale will feature their wedding. Showrunner Derek Haas talked to Deadline about bringing Jesse Spencer back on board as Matt Casey for the final episode, which he calls "pretty epic."
"The juicy details are that we went to him and said, 'You're so loved on this show. And with the Severide wedding coming up, there's no way Casey would miss seeing his best friend getting married. Come on, man!'" Haas explained to Deadline. "So, he graciously agreed to come back for the finale."
"He promised Severide he would be his best man and Casey is a man of his word," showrunner Andrea Newman added.
Haas also talked about the upcoming wedding to TV Insider. "The wedding is indeed — we're headed towards a finale that is going to be very memorable," Haas noted.
Do Kelly Severide and Stella Kidd break up? Showrunners hint something bad happens
While the Chicago Fire Season 10 finale will feature plenty of Stella Kidd and Kelly Severide, but it may not go according to plan. Derek Haas told TV Insider the wedding won't be anything like what fans expect.
"The Kidd-Severide build-up has been a long time coming and the event, we're Chicago Fire, so if you think it's going to be one thing, it might not exactly happen the way all the characters have it in mind to happen," he said.
Haas also told Deadline that while he hoped to see the wedding go well for the beloved characters, "it might not be the wedding everyone dreamed about," he noted.
So, what could go wrong? With possible trouble ahead at the wedding, this could mean something occurs between Severide and Kidd. Kidd actor Miranda Rae Mayo once said she didn't think Kidd wanted to get married at all.
"I don't think Stella wants to get married; I think she just wants to be with Kelly," Mayo explained to Monsters & Critics. She then noted that if Kelly proposed, Kidd would likely say yes. But the idea wouldn't be her own. "As far as, 'Want to get married!' No!"
The couple's 'dark history' may come into play
While Kelly Severide and Stella Kidd seem like the perfect couple (even with their flaws), showrunner Andrea Newman spoke to TV Insider about the couple's "dark history." This could certainly factor into their wedding during the Chicago Fire Season 10 finale.
"Kidd had the previous marriage that was abusive and horrible, and Severide has this role model of his dad and his mom's marriage, which was terrible and also somewhat abusive," she noted. "They both carry a big burden into this, and the question is, when push comes to shove, can they take that leap? There's all sorts of complications we're throwing their way."
We can't forget that Kidd appeared jealous due to the amount of time Severide spent with Wendy Seager earlier in the season. "And, you know, he's working with Seager, who is very attractive and obviously in love with him," Kidd explained during episode 13.
Will Severide and Seager's friendship come into play? Or will Severide and Kidd have no troubles on their wedding day after all? We'll have to wait and see.
Chicago Fire Season 10 airs Wednesdays at 9 p.m. EST on NBC.
Check out Showbiz Cheat Sheet on Facebook!
Source: Read Full Article