Charlie Stayt warns Lenny Henry 'you shouldn't say that' on BBC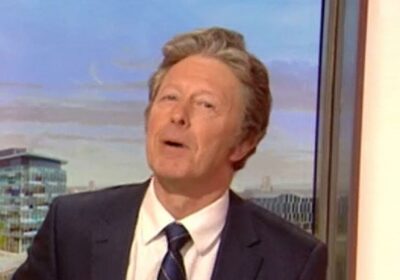 Charlie Stayt tells Lenny Henry he can't tell kids to keep library books
We use your sign-up to provide content in ways you've consented to and to improve our understanding of you. This may include adverts from us and 3rd parties based on our understanding. You can unsubscribe at any time. More info
The BBC Breakfast presenters were joined by actor and comedian Lenny Henry for World Book Day and to discuss the latest book he has written for the occasion. After discussing the 500 words competition, Lenny made a cheeky admission from when he was younger regarding the books he took from his local library.
Discussing his childhood and experience with reading, Lenny explained: "When I was nine or 10, my auntie took me to Dudley library and made me enlist.
"She said 'Go in there and disappear', so I did and the librarians were brilliant. They showed me all these books and it meant I could immerse myself in all these imaginary worlds.
"Learn about creativity. Because when you read a book, you can cast it, you can design the sets, you can imagine what hair people have got.
"You can do everything in your imagination and that is why it is important."
Rachel stated: "You grew up in a household without books didn't you, and you often hear people say that's a real indicator of success later in life.
"Not necessarily economic background, that obviously plays into it, but does your house have books in it?"
Lenny explained: "Yeah but it is sort of a human right, so if you can't get the books from school, I have a mate called Steven Power.
"He collected comics and the tatty ones he would give to me so I read Spiderman, Batman, Fantastic Four, all of those things."
Looking straight down the camera, he teased: "Then I joined the library. The library is such a great place, guys you have got to get into it!
"You go there, they give you six books, you take them home and you never have to bring them back."
Charlie peered at Lenny and quipped: "You really shouldn't say that, you know you shouldn't say that."
Lenny laughed and added: "BBC you must tell the children this! Go to the library now and get free books!"
Presenter Jon Kay was also at a school in Birmingham to kick start the beginning of their 500 words campaign which encourages young children to submit a story they have written.
He explained: "It is world book day so they have all come dressed as their favourite characters, we have twins both dressed as Mary Poppins.
"Sitting next to Alice in Wonderland and Willy Wonka. Not only is it world book day but it is the launch of 500 words.
"It is lovely to be here with all of you. The staff look amazing too, round of applause for the teachers."
Mark Unwin, Chief Executive of Create Partnership Trust joined Jon and said: "Any opportunity to inspire ideas and to communicate is so valuable.
"Especially for primary school children, and 500 words has always been that. It has always been an inspiring way to get them to write."
Jon ended his segment: "We need judges, 4000 judges from around the country who are going to mark through all your stories."
BBC Breakfast airs every day from 6am on BBC One.
Source: Read Full Article