Charlie Stayt shuts down claim he and Naga are 'good friends'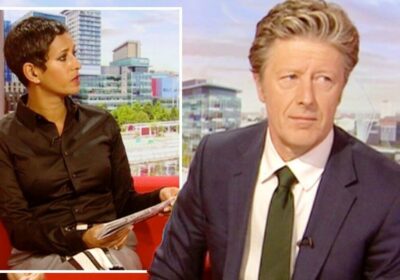 Charlie shuts down Naga's suggesting the should be "good friends"
We use your sign-up to provide content in ways you've consented to and to improve our understanding of you. This may include adverts from us and 3rd parties based on our understanding. You can unsubscribe at any time. More info
Naga and Charlie have regularly filled the weekend slot on BBC Breakfast for a number of years now, taking over from Jon Kay and Sally Nugent on Thursdays. As such, fans would be forgiven for thinking the two share a close bond when the cameras stop rolling. However, Charlie appeared to shut down the suggestion with a relatively dry response to his co-star.
The moment came when Naga and Charlie were perusing through the morning's newspapers to see what stories had caught their eye.
After Charlie showed Naga a clipping of a story about an exclusive luxury restaurant for dogs in the USA, it was Naga's turn to share her story.
"So, how many hours do you think it takes to become a good friend?" Naga asked her co-star.
"Years, probably," Charlie replied with a shrug to which Naga told him: "No! No."
She delved further: "34 hours. 34 hours apparently after this study of more than 2,000 individuals.
"It's 2,040 minutes we need. An Oxford University professor analysed this.
"Now, the ultimate formula for a friendship," Naga continued as she held her finger up to Charlie.
She went on: "It involves 11 interactions each lasting and average of three hours and four minutes."
However, Charlie didn't seem to be persuaded by the study's findings, shooting a puzzled look to the camera.
"Over the period of five and a half months," Naga added as Charlie began to shake his head.
Spotting the chance to tease her co-host, Naga tapped Charlie with the paper and asked: "How long's this programme?"
"It's not… that's not tenable, is it?" Charlie said with a straight face.
DON'T MISS:
Gloria Hunniford breaks down in tears marking daughter's 60th birthday
Grand Designs star Kevin McCloud teases 'saddest ever episode'
Kate Garraway left gobsmacked as she unveils family discovery
"That's not right, it doesn't make any sense," he added as Naga began to smirk at his rather cold remarks.
Charlie, however, remained steely-faced as he moved on with the rest of the show before Naga could respond.
While Naga appeared to laugh off the remarks, it didn't go unnoticed by some viewers at home.
Taking to Twitter to comment on the moment, Anna-Louise Langton said: "#BBCBreakfast So, Charlie isn't friends with Naga? Awkward 'friendship' item."
While another took aim at Naga's own response to Charlie's newspaper clipping, in which she branded it "nonsense".
Gary Roberts fumed:"@BBCBreakfast Naga what is your problem at 6.20am this morning your attitude was out of order when Charlie said about the dog restaurant.
"Your reply was out of order, have a better attitude when on breakfast," they added.
BBC Breakfast airs daily at 6am on BBC One.
Source: Read Full Article