Celebs Who Have Gotten Engaged Multiple Times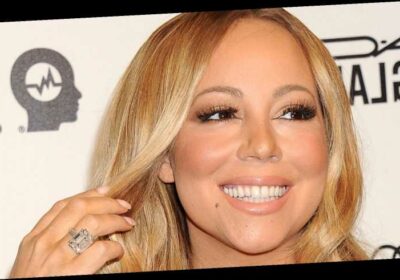 We get it. Getting engaged is a very exciting time for those involved. First, there's the 'I did it!' announcement — a sometimes clever but mostly cheesy tactic of reporting to friends, relieved relatives, and college frenemies (hello, Facebook) that said sweethearts are in love and OH-SO-HAPPY. And let's not forget the ring — a shiny hunk of opulence mounted to the now eagerly, and seemingly endlessly, flashing waving hand of the lucky recipient. Mazel (Yes, we see it). All in all, the promise of an impending wedding extravaganza is an exceptionally triumphant moment for the ego.
Yes, getting engaged is a hoot, and no one knows this more than lust-loving and spotlight-bathing celebrities. It seems that some stars enjoy the promise of everlasting love so much that they perpetuate the event time and time — and time — again. Whether they're a serial proposer or ring receiver, these Hollywood heartthrobs nearly made it down the aisle multiple times.
Julia Roberts ditched her fiancé for his best friend
Before Julia Roberts was America's sweetheart, she was a runaway bride. Look, when you are crowned People's Most Beautiful Woman a casual five times, the relationship rules are a little different, okay? According to People, Roberts was first engaged to Dylan McDermott after the pair met on Steel Magnolias. That lasted until Roberts clicked with Flatliners co-star Kiefer Sutherland. The lovebirds made things red carpet official in 1990, but things went sideways when Sutherland left Roberts' house after a fight to stay in a motel nearby — with Raven, a 24-year-old "go-go dancer," who, as People noted, told the tabloids that Sutherland called Roberts an "ice princess." 
After Raven-gate, Roberts was seen with an engagement ring from Sutherland. But the joke was on Sutherland, because five days before their wedding, Roberts bailed without notifying her fiancé. Breaking up through text messages wasn't a thing yet, so Roberts had a mutual friend deliver the news to Sutherland, while she hit up his friend, Jason Patric, who she ended up dating until 1992. Roberts then married country music star Lyle Lovett in 1993, but divorced him in 1995. Julia finally met her forever guy, cinematographer Danny Moder on the set of The Mexican. They're still together, having married in 2002.
Jennifer Lopez could open a jewelry shop with the rings she's got
Jennifer Lopez has been loved by a lot of people over the years, and the "Love Don't Cost a Thing" singer has flashed a notable collection of engagement rings throughout her time in the spotlight. "The first person who shows up and gives me a little comfort and gives me a little chemistry, boom, we're in," Lopez told Today. First, there was Cuban waiter, Ojani Noa. According to Diamond Hedge, Noa proposed with a "$100,000 pear-shaped diamond engagement ring" in 1997. The pair separated a year later. Then Lopez dated backup dancer Cris Judd, who spent six figures on an emerald-cut diamond ring, according to E! News. The lovebirds parted ways less than a year after they got hitched. As E! News noted, next up was Ben Affleck, who proposed with a 6.1-carat, pink diamond solitaire. The two split before they walked down the aisle. 
It was Marc Anthony who married Lopez in 2014 with another Harry Winston (how original) 8.5-carat blue diamond ring estimated at $4 million, per Diamond Hedge. Sheesh! Our backs hurt just thinking about lugging that bauble around. J.Lo back-braced it for 10 years before she took off the ring for good in 2014 when they divorced. Next up to bat, Alex Rodriguez, who proposed to Lopez in 2019 with a 15-carat emerald cut diamond engagement ring worth $1-5 million. Dust off that back brace!
Mariah Carey made millions from her engagement ring
We first saw Mariah Carey in 1993 on the arm of Sony Music head Tommy Mottola, who she described as "completely controlling" on CBS Sunday Morning. The two parted ways in 1998, and Nick Cannon proposed to Carey next in 2008 with a "17-carat emerald-cut pink center diamond is surrounded by 58 pink diamonds," according to Us Weekly. The $2.5 million sparkler razzle-dazzled until 2014 when the couple filed for divorce.
As pointed out by the Daily Mail, Australian billionaire James Packer then popped the question to Carey in January 2016 with a colossal 35-carat blinder. On The Steve Harvey Show, Carey revealed the sweethearts met at the Hercules movie premiere two years prior. "We were talking and laughing and people were getting mad at us…So we hit it off," she shared. When the pair separated in October 2016, not only did Carey get to keep the diamond, she slapped a multi-million dollar "inconvenience fee" on her ex-finance for the drama of it all, according to ET. Engagement inconvenience fee? So relatable, that Mimi. According to Page Six, Carey then sold the ring, originally worth an estimated $10 million, to a jeweler for $2.1 million, as to "leave emotional and material baggage behind, including an old engagement ring from an ex-boyfriend." Do pencil us in for the elusive chanteuse's master class in Exit Strategies.
Gwyneth Paltrow has gotten engaged to two Brads
Gwyneth Paltrow may have weird taste in candles, but she's got great taste in men. Fight Club star Brad Pitt was the first to propose to 24-year-old Paltrow in 1996. At the Golden Globes, Pitt acknowledged her as "the love o' my life, my angel." When the subject of their relationship came up on The Howard Stern Show years later, Paltrow recalled, "I definitely fell in love with him. He was so gorgeous and sweet." Alas, the romance unraveled, leaving room for Coldplay's Chris Martin to propose in 2003. The pair eloped in 2003 and "consciously uncoupled" in 2014.
Then while guest-starring on Glee, Paltrow met producer and Ryan Murphy sidekick Brad Falchuk. The pair announced their engagement on Paltrow's lifestyle site Goop in 2018. The Iron Man actor threw a pristine dream wedding complete with fruit-forward floral centerpieces, a "vegetable bounty," and exactly zero candles inspired by nether regions.
Paltrow told The Sunday Times that she and Falchuk remained living in separate homes for the first year to preserve the mystery. These two are living on the edge. But before you get all Judge Judy on this New Agey couple, they're doing something right, as Paltrow got all sappy via Instagram, "I love him more today than I ever have, but not as much as I will tomorrow." 
Brad Pitt has been Brad hitched more than once
It's no surprise Hollywood homecoming king Brad Pitt has had a very active romantic timeline. As Us Weekly noted, Pitt first proposed to girlfriend Jill Schoelen in 1989. Their engagement lasted three months before Schoelen went away to film a movie, fell for her director, and dumped Pitt. He told The Sun, "At this point, I had $800 to my name and I spent $600 of it getting a ticket from LA to Hungary to see her." Brutal.
Then, as previously mentioned, Pitt popped the question to Gwyneth Paltrow after two years of dating, but things fell through months later. Enter: everyone's favorite Friend, Jennifer Aniston. The perfect hair pair were set up by their agents in 1998 and began a romantic love affair that still sells tabloids today. According to People, the couple coordinated matching blonde highlights, dined on caviar and gourmet pizza, and cozied up under fireworks for their lavish Malibu wedding in 2000. Alas, Pitt hit the fan, Aniston filed for divorce in 2005, and the Mr. & Mrs. Smith actor landed in the arms of co-star Angelina Jolie. After eight years and a brood of six children, Us Weekly reported Pitt gathered the whole fam-damily when he proposed to and married Jolie in 2014. Brangelina's "domestic bliss" as W put it, lasted two years until Jolie filed for divorce per TMZ, citing irreconcilable differences.
Paris Hilton is the queen of engagements
Paris Hilton has found love in a lot of places. Mostly trust-fund baby places, but love nonetheless! On Feb. 17, 2021, Hilton announced on Instagram that she's engaged for a fourth time to longtime family friend, Carter Reum. He proposed to Hilton while celebrating her 40th birthday on a private island surrounded by family and friends with a casual 10-carat diamond ring worth an estimated $1 million, according to Page Six. Hilton captioned the special moment, "When you find your soulmate you don't just know it. You feel it."
Before Reum, Hilton said yes to actor Chris Zylka in 2018. According to Us Weekly, the pair met at an Oscars after-party in the early aughts and started dating in 2017. "Perfect for me in every way," she wrote via Instagram at the time (via Us Weekly). They ended things after two years together.
Hilton also nixed her engagement to Greek shipping heir Paris Kassidokostas-Latsis circa 2005. As People reported at the time, Latsis proposed to Hilton when she returned from a quick publicity tour for House of Wax with a 23-carat engagement ring. At the ripe age of 22, Latsis called Hilton, "The most incredible woman I have ever met," via People. Oh, and let us not forget when model Jason Shaw proposed to the socialite in 2002, who was barely 21 at the time. The two separated a year later, per The Sun.
The proposals keep rolling in for Scarlett Johansson
Marvel super siren Scarlett Johansson has said yes three times. Johansson was first engaged to Canadian sweetheart Ryan Reynolds in 2008. She told Harper's Bazaar (via People), "Anyone being presented with a diamond ring, you just squeal with delight." The Talbots catalog couple delighted in their wallflower ways together for two years until they called it quits in 2011. "I really didn't have an understanding of marriage," Johansson later told Vanity Fair. 
According to Us Weekly, Johansson weaved through the likes of Jared Leto, Josh Hartnett, and Sean Penn before she tried things out with a "normal" and married French journalist Romain Dauriac in 2014. Johansson gave birth to their daughter, Rose, in 2014, but filed for divorce by 2017 because the life of a commoner's wife was not her journey. 
Johansson then found love in a humorous place with People's Sexiest Joke Writer, Colin Jost. The SNL Weekend Update anchor recalled in his memoir, A Very Punchable Face (via E! News), that they met on SNL in 2006 and remained friends. In the book, Jost described Johansson as "beautiful, smart, sweet, and intimidatingly sophisticated" and having "a grace and a smile that I've still never seen in any other human." The two rekindled when Johansson hosted SNL for the third time on March 11, 2017. Jost proposed two years later with an 11-carat oval diamond, according to Page Six. The twosome tied the knot in October 2020. 
Pamela Anderson loves a wedding aisle
With five marriages and nine ceremonies, home is where the wedding is for Pamela Anderson. According to E! News, she married Tommy Lee on a beach in Mexico after four days of dating. The twosome separated in 1998 but reconciled in 2008. Lee said in Rolling Stone, "We've only given it a try 800 times, 801 here we go." In 2015, Anderson told People, "He was the love of my life."
Anderson made her way to Kid Rock in 2001, got engaged in 2002, but separated soon after. The blondes reconciled in 2006 and exchanged vows on a yacht in St. Tropez, then tied the knot again a month later at a Beverly Hills courthouse. Just for funsies, they married in August a third time onstage at the Tootsie's Orchid Lounge in Nashville. According to The Oakland Press, just months later, they exchanged a fourth set of vows in Rock's hometown of Clarkston, Michigan. Anderson filed for divorce that November.
In 2007, she married Rick Salomon in Las Vegas, but as TMZ reported, she requested an annulment by February 2008, citing fraud. They reconciled in 2013 and married in January 2014, but separated again by July. In January 2020, Anderson said "I do" to producer Jon Peters, but they decided to part ways after 12 days, according to E! News. And then, the Daily Mail reported Anderson married her bodyguard Dan Hayhurst at her Vancouver Island home on Christmas Eve 2020,
50 first dates and five engagements for Drew Barrymore
E.T. darling-turned-leading lady, Drew Barrymore, went from wild child to doting wife by the age of 16. According to Popsugar, Barrymore married Leland Hayward III, grandson of Hollywood producer Leland Hayward in 1991, but that didn't pan out. Then she said yes to actor Jamie Waters, but their engagement was called off by 1993. According to Radar, Barrymore moved on to British-born Jeremy Thomas, who was 12 years her senior. After a long night of slinging cocktails, the pair decided to call a 24-hour minister to make their romantic union official. Seems ambitious. At 5:30 AM on March 20, 1994, the sweethearts exchanged vows on the roof of Hollywood bar The Room. "I realized my mistake on the day I married him," Barrymore told Star. You don't say.
In 1999, Barrymore began dating comedian Tom Green after connecting on the Charlie's Angels set, per Entertainment Weekly. The couple walked down the aisle in 2001, but Green filed for divorce later that year in December. As Popsugar noted, Barrymore went to be linked to Sam Rockwell, Justin Long, and The Strokes' drummer Fabrizio Moretti before settling down with longtime friend and art consultant Will Kopelman in 2011. The couple married at her Montecito home in June 2012. The newlyweds had two children together, but Page Six reported Barrymore filed for divorce in 2016.
Ryan Reynolds has been engaged to several A-list stars
If you didn't know that Canadian Casanova Ryan Reynolds had a slew of relationships before wifing-up Blake Lively by now, well, then we've also got some disappointing news about the existence of Santa Claus. Reynolds first proposed to Alanis Morissette in 2004, but the Deadpool actor called it off in 2007, and boy did we hear about it. As Morissette shared on Access Hollywood, she wrote an album about the split.
Reynolds quickly moved on to Scarlett Johansson, per E! News, but this was no rebound fling. Reynolds proposed to and married Johansson in 2008. The pair filed for divorce in 2011 and again, Reynolds wasted no time moving on to Lively. "She was on a date with another guy, and I was on a date with another girl," Reynolds said during an interview on Entertainment Weekly Radio (via Time). "That was the most awkward date [from their perspective] probably because we were just like fireworks coming across." Married in 2012, Reynolds has continued to express his feels for Lively, once stating, "She always responds with empathy… She'll take the time to imagine what happened to a person when they were five or six years old," via the Humans of New York Instagram account. Do keep that in mind next time your sweetheart forgets to grab a $3 Hallmark card for your birthday.
Billy Bob Thornton knows his way around a proposal
Billy Bob Thornton is no stranger to popping the question. Thornton married Melissa Lee Gatlin in 1978 but split up two years later, per E! News. They share a daughter, Amanda who, according to the Los Angeles Times, was sentenced to 20 years in prison in 2011 for the death of a friend's child. The Sling Blade actor married Toni Lawrence in 1986 but got divorced after two years, followed by Cynda Williams in 1990. Thornton was married to Pietra Dawn Cherniak from 1993 to 1997 and have two sons together.
Thornton proposed to Laura Dern, but apparently ghosted her when he fell for and married his Pushing Tin co-star Angelina Jolie in 2000. "I left our home to work on a movie, and while I was away, my boyfriend got married, and I've never heard from him again," Dern told Talk Magazine (via The Mirror). Thornton's marriage to Jolie lasted until 2003, with him chalking their differences up to opposite lifestyles. "Hers is a global lifestyle and mine is an agoraphobic lifestyle," Thornton revealed during an HFPA Conversation podcast episode. Certainly, Thornton's epiplaphobia was no help. "I just don't like old stuff. I'm creeped out by it, and I have no explanation why," he explained to The Independent. Thornton married puppeteer, Connie Angland, in 2014, per E! News, and have been happily together, hopefully with modern sofas, ever since.
Danielle Staub's long list of engagements
According to The Real Housewives of New Jersey lore, Danielle Staub has been engaged 21 times. On an episode of the RHONJ After Show, she offered a tidbit as to just how she got so many bachelors to propose in the first place: "The way I got them to ask me to marry them quickly is I said I was a virgin and I would not have sex until I was married. That'll put a ring on your finger real quick." Hey, different strokes. Staub then denied the exact number being 21 but saved the truth for herself. While the identities of most of these suitors remain unknown, there are some we do know about.
As People recalled, Staub married FBI informant Kevin Maher in 1986, but they separated a year later. In 1992, Staub married Thomas N. Staub. The pair had two daughters together but split in 2007. By 2015, Staub was briefly engaged to Navy SEAL Joe Masalta, per Us Weekly, but alas, the lovers didn't make it to the altar. Instead, Staub made her way to Marty Caffrey. After two years of dating, Staub said yes to Caffrey in the Bahamas in May 2018, but then he filed for divorce by August. A week after their divorce was finalized, Staub announced her engagement to the Duke of Provence, Oliver Maier, on February 25, 2019 on Instagram. According to People, the pair called off their engagement by September 2019.
Source: Read Full Article