Casualty drops first look at harrowing Jan and Gethin special episode – and it's bound to be a tear-jerker | The Sun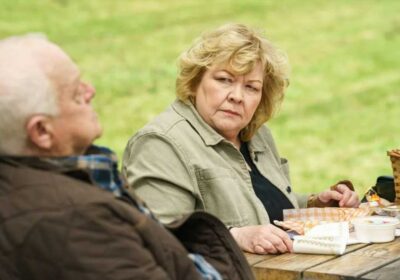 CASUALTY has dropped the first look at a harrowing Jan and Gethin special episode.
The BBC One drama has been featuring an ongoing assisted dying storyline featuring Jan Jenning and her ex-husband Gethin West.
*This article contains information about an assisted dying storyline, which some readers may find upsetting*
Gethin is suffering from motor neurone disease (MND) and has asked his former spouse to help him end his life.
This weekend, Casualty will run a double episode which will follow Jan as she accompanies Gethin to Switzerland and an assisted dying clinic.
The emotional episode will see the former couple try and make the most of their remaining time together, with Jan planning a day trip and Gethin organising a picnic.
Read More on Casualty
Casualty breaches broadcasting rules with swearing blunder as fans complain
Casualty spoilers: Hospital rocked by tragic overdose and pair flee country
They also meet with one of the doctors at the clinic, who reminds Gethin that other MND patients choose palliative care rather than assisted dying.
However, Gethin is adamant that he wants to proceed.
Later, the pair lie on the bed at their hotel room and reminisce, before realising that despite their differences, they still know how to make each other laugh.
The following day, they return to the clinic and Gethin is once again asked if he wants to go through with his plan.
Most read in Drama
disowned
The Inheritance viewers fume 'who signs off on this s***e?!' over new drama
LEGAL THRILLER
From the cast to the plot to filming – your guide to The Killing Kind
DETECTIVE DUO
Vera's Aiden Healy star finally reunites with Brenda Blethyn after show exit
'90s THROWBACK
Shetland star looks unrecognisable in unearthed photos from 24 years ago
Gethin insists he does, leaving Jan distraught, but by his side throughout.
Casualty has worked closely with the MND Association on Gethin's storyline.
The charity focuses on improving access to care, research and campaigning for people affected by motor neurone disease.
Casualty will air a double episode on Saturday, September 16 at 8.20pm and 9pm on BBC One.
The MND Association's helpline MND Connect (0808 802 6262) is available Monday to Friday from 9am to 5pm, and 7pm to 10.30pm. Calls are free.
Source: Read Full Article