Call the Midwife's Dr Turner star on finding wife in tears over storylines 'She'd just cry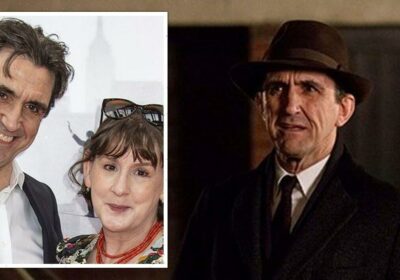 Stephen McGann discusses his role on Call The Midwife
We use your sign-up to provide content in ways you've consented to and to improve our understanding of you. This may include adverts from us and 3rd parties based on our understanding. You can unsubscribe at any time. More info
The BBC series Call the Midwife is known for its touching storylines, which tackle real-life events throughout history. Dr Turner (played by Stephen McGann) is often at the forefront of the many storylines and is lucky enough to see them evolve from an idea into a script. This is due to him being married to writer and producer Heidi Thomas, where he recently revealed he catches her crying a lot of the time.
The hit BBC series is coming up for its 12th season and is expected to see the aftermath of the train crash and also some familiar faces return.
Many fans are excited to see the series return but often ask how many more they can expect to see.
Touching on this at the BFI and Radio Times Television Festival, Heidi revealed: "We were chatting, and I said to Pippa [Harris], 'We never get bored of it, do we?'
"After the Christmas special goes out every year, I have a glass of Bailey's, and I think 'How am I going to do that again?' because the special is always welcomed and embraced.
"Then I start to do my research and email Pippa, and I'll say, 'you will never guess what I have just found out, guess what,' and I think as long as we have that response to the research material, we can keep on going really."
Executive producer Pippa agreed: "Also, the other thing for us is when we cry and watch the first cut of the finished episode.
"I actually cry quite a lot at the treatment stage when Heidi sends me a treatment, I sit there, but I have learnt not to read them on the train now."
Stephen interjected the ladies' conversation and revealed: "Ladies and gentlemen, I go into this woman at one o'clock in the morning.
"And sometimes she is crying at something she has just written, and I'm like 'what's wrong?' and she'll just cry!"
Dr Turner has grown to become a fan favourite within the series, and fans were furious when he was involved in the train crash.
However, Stephen was never meant to be in the series for as long as he has and initially joined the series as a favour to Heidi.
He revealed: "I was a university student at this time, I had taken a sabbatical, and I was looking after the boy at home, he was quite young then.
DON'T MISS…
Call the Midwife boss on rejection of BBC series [INSIGHT]
Call the Midwife's Dr Turner star opens up about biggest complaint [LATEST]
Call the Midwife boss teases return of much-loved characters [WATCH]
"Then I got called in by these two, who had hatched a plan, 'We can't find the right doctor', and they asked and said, 'Could you do a reading?'.
"I went in to do an audition, but the thing is I said, 'well, I am at uni' because I was doing a master's degree, and Heidi said, 'No, we have discussed it all, there are only a few parts we will work around your uni'.
"Then the immortal line of 'come on, let's face it, nobody is going to watch it, and it sounds ludicrous now, but it was a lovely part in a thing, and I was there.
"Suddenly you had an eight partner, with a Christmas special as Heidi said, you were going to run out of material, and now you have all of these stories.
"I think it was in one way one of our proudest moments because it is one to launch something like this but to come back and develop the ideas into something more lasting."
The third series is set to kick off with a Christmas special, which sees the return of Trixie Franklin (Helen George).
Her rough patch last season saw her leave to take care of her sick aunt in Italy, but her return will see the continuation of her relationship with Matthew Aylward (Olly Rix).
Call the Midwife is expected to return to BBC One on Christmas Day, December 25, 2022.
Source: Read Full Article