Call The Midwife's Cliff Parisi admits 'I'm very lucky' after reading latest scripts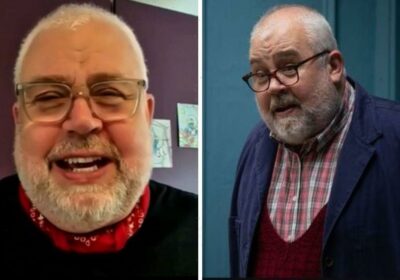 Stephen McGann discusses his role on Call The Midwife
We use your sign-up to provide content in ways you've consented to and to improve our understanding of you. This may include adverts from us and 3rd parties based on our understanding. You can unsubscribe at any time. More info
Former EastEnders star Cliff said the Call the Midwife scripts "are amazing," and explained what filming for the upcoming series has been like. It came as he talked to Kym Marsh and Gethin Jones on Monday's Morning Live to discuss his participation in this year's Celebrity MasterChef.
"Well listen, you're currently filming Call The Midwife aren't you, how's that going?" Kym asked.
The 62-year-old replied: "Yeah, really good. During the pandemic we kind of filmed too, so we've had all these protocols in place which are keeping us safe.
"We've had a couple of people go down with Covid but generally, the spirit's good, and we're getting on with it.
"We're on episode four of the new series."
The Fred Buckle star continued: "And the scripts are amazing, as always from Heidi Thomas.
"We love working on her scripts and I'm very, very lucky to be working with such a talented, beautiful and wonderful bunch of people."
"Isn't your daughter training to be a midwife at the moment?" Gethin asked.
"She is indeed," confirmed Cliff, adding: "I'm very, very proud of her."
He added: "My daughter set up a baby boutique thing in hospitals, taking stuff to young women that didn't have any money.
"So she started off doing that, she set up this whole charity thing, which went brilliantly.
"And then other people in the hospital said, 'Look, why don't you get involved and become a midwife?'
"So now she's doing it and I'm very, very proud of her, she's doing really well."
Call The Midwife has become a global favorite since it began in 2012.
Series 11 included some emotional moments, most notably the train crash in the season finale.
The fates of many fan-favourite characters were up in the air as tragedy took place in Poplar.
Thankfully Dr Turner (played by Stephen McGann) and Sister Julienne (Jenny Agutter) were recovering well by the end.
Their recoveries should continue in the new episodes, and fans are also hoping to find out more about Trixie Franklin's (Helen George) whereabouts.
Cliff will be taking part in this year's celebrity edition of popular cooking competition, Masterchef.
He didn't give much away as he told Kym: "You'll have to wait and see what happens."
Call the Midwife returns later this year on BBC One.
Source: Read Full Article