Britain's Got Talent winner Axel Blake hits back at 'fix' claims 'I didn't know'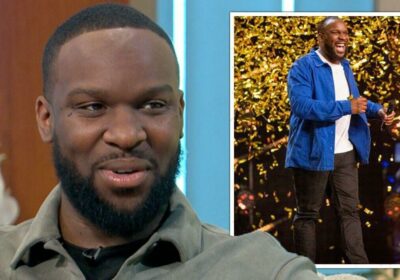 Axel Blake hits back at critics says he financed the Amazon show
We use your sign-up to provide content in ways you've consented to and to improve our understanding of you. This may include adverts from us and 3rd parties based on our understanding. You can unsubscribe at any time. More info
However, Axel's win has been overshadowed by "fix" clams after it was revealed the Golden Buzzer contestant is already an established comedian. After Simon Cowell gave him the chance to go straight through to the live semi-finals, it was revealed Axel had a comedy special on Amazon Prime Video.
Speaking on Lorraine about the controversy surrounding his win, he insisted he financed the series himself and didn't know Prime Video would even pick it up.
"I put that show on myself," he stated.
"I put my money where my mouth is and I achieved that, but it didn't…
"It looks like, 'Oh my gosh, it's Amazon Prime' but if they saw the back end, it didn't look like that financially, a lot of stress."
Axel went on to explain: "I had to borrow from other people, to say, 'Listen, I need to do something, I've already put the deposit down and stuff.'
"Then after that, Amazon picked it up. So it wasn't for Amazon Prime.
"I didn't know they were going to pick it up. That was like a year later."
The comedian went on to comment on whether he gets nervous telling the ITV host: "The nerves go after the first laughs come in – that's it."
He added he also entered BGT for his young son: "The reason I said that was because I just wanted him to see you can do anything you put your mind to.
"[I told him], 'Think of something that you want and believe in yourself."
Axel won Britain's Got Talent as he faced young ventriloquist Jamie Leahey and his chicken Chuck.
But immediately after the result was given, Twitter was flooded with backlash and fix claims.
@KellyBlackx said: "Fuming! What a fix! He wasn't even funny #BGT."
"Was obvious he was going to win but was proper rooting for Jamie and Chuck. What a duo they are. #BGT," @lewiisjefferies posted on Twitter.
@DeMclovin81 shared: "Oooh, p**s off!! Looks like a fix. Jamie and chuck deserved it!! Robbed blind!! #BritainsGotTalent #BGT #BGTFinal."
"Did Axel win because he's Simon's golden buzzer? Certainly wasn't for his comedy #BGT," tweeted @Brendacuz.
Speaking on Sunday night at the final, Axel said of his win: "Word can't even explain, I am shaking! Thank you, everyone, for voting for me, it means the world to me.
"Thank you, everyone, at home, there is not even words to explain right now, I can't believe it.
"I don't know what to say, thank you and in style, yeah!"
Lorraine airs weekdays on ITV from 9am.
Source: Read Full Article