Bridgerton star Nicola Coughlan drops season three update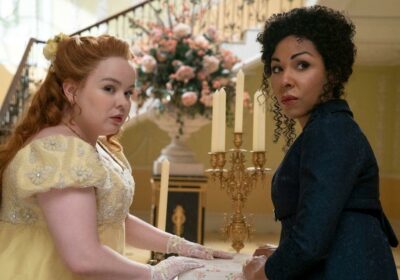 Nicola Coughlan teases Lady Whistledown's future on show
We use your sign-up to provide content in ways you've consented to and to improve our understanding of you. This may include adverts from us and 3rd parties based on our understanding. You can unsubscribe at any time. More info
Season three of Netflix's popular period drama Bridgerton is set to introduce Penelope (Nicole Coughlan) and Colin (Luke Newton) as the new couple that fans will be gushing over in its next instalment. Coughlan recently got fans' hearts racing by sharing a selfie of her and co-star Newton, hinting that they have been busy filming the upcoming season.
The actress recently reshared an old snap from last year that shows her and her onscreen lover Newton posing together.
On what appears to be a glimpse behind-the-scenes of the Bridgerton set, the pair posed smiling at the camera as they stood in between two trailers.
She captioned the post: "We've been busy bees [Bumble bee emoji]".
The actress published the picture on her Instagram story, resulting in fans taking to the comment section of the original post, begging for updates on the third season.
One fan @Karugmzz commented: "Nicola, my queen. I can't live with this silence (? Tell me, have you and Luke finished with s3 filming?"
The actress replied to the probe saying: "not yet [love heart emoji]"
Despite the disappointment, fans were grateful for the update regarding the filming of season three.
@Rustyshackle4rd69 thanked the actress, saying: "thank you babes for letting us know."
View this post on Instagram

A post shared by Nicola Coughlan (@nicolacoughlan)
Get Netflix and Sky TV channels for £6
£17 £9 View Deal
For a limited time, you can unlock a Netflix subscription and NOW membership to stream live Sky TV channels and on-demand boxsets from the BT TV set-top box, which lets you pause and rewind terrestrial channels and watch in 4K Ultra HD.
Get Netflix included with Sky Glass
£13 View Deal
Glass streams everything over Wi-Fi – so you won't need a satellite dish to watch live telly. It also packs a Dolby Atmos soundbar and hands-free voice controls.
EE customers get FREE Netflix £5.99 £0 View Deal
If you get Smart Benefits with your EE pay monthly phone contract or SIM plan …then you can claim a Netflix subscription for free!
Although it was never officially confirmed, it was rumoured that the last day of season three's filming was going to be on February 28.
Fans can remain hopeful though, as it is believed filming won't go on for much longer due to the fact the cast and crew began filming for the third season last summer.
If Netflix was following the sequence that takes place in Quinn's books (the author of Bridgerton), the third season would have followed the second-eldest sibling, Benedict Bridgerton, (Luke Thompson).
But this isn't the case, as season three will be based around the fourth book Romancing Mr Bridgerton.
The focus will be on Coughlan's character Penelope "finding a husband" as well as how the secret of Lady Whistledown affects her personal life,
The actress' on-screen budding romance with Colin is set to develop following his return from his summer travels.
The pair get off to a bad start after Penelope had "given up on her long-held crush" Colin, after hearing his disparaging words about her last season.
But in a desperate bid to win friendship, Colin offers to mentor Penelope in order to make her more confident, following her failed attempt at finding a husband.
Although it appears the third season of Bridgerton is still underway, fans can still get their fix of the period drama.
The streaming giant announced it will be bringing out a six-episode-long spin-off called Queen Charlotte: A Bridgerton Story.
The prequel will follow young Queen Charlotte's rise to prominence and power, which has been confirmed to premiere on May 4 2023.
Bridgerton seasons one and two are currently streaming on Netflix in the UK.
Source: Read Full Article