'Bridgerton' Season 2: Simone Ashley Says the Series 'Celebrated' the Sharma's Indian Heritage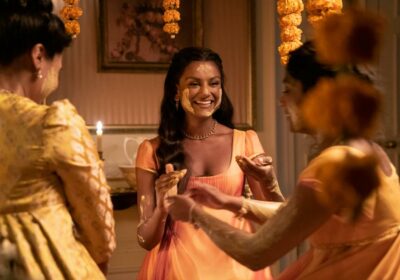 Simone Ashley and Charithra Chandran joined the cast of Bridgerton Season 2 as Kate and Edwina Sharma. The sisters arrive in London in the hopes of finding a suitable husband for Edwina. Throughout season 2, the series gives little nods to the sister's Indian culture. Ashley feels that Bridgerton Season 2 celebrated the sister's heritage.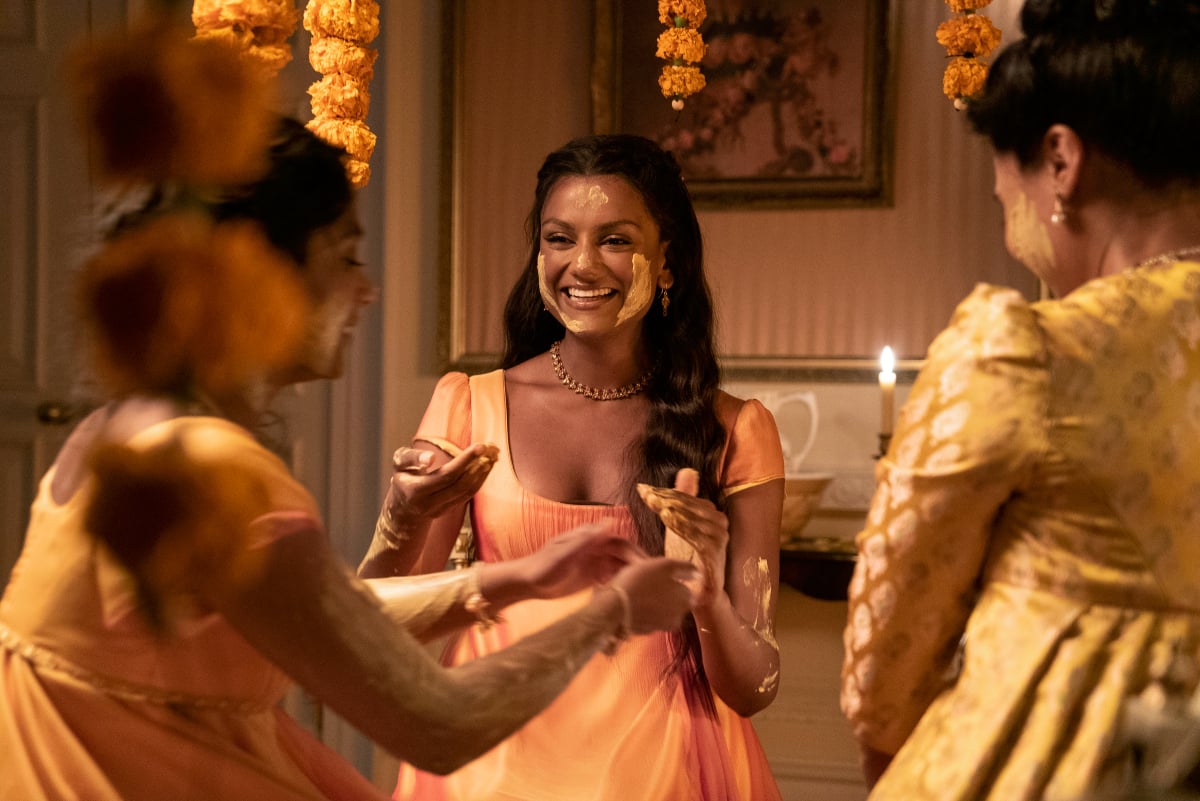 The Sharmas arrive in London to find an English husband for Edwina
In Bridgerton Season 2, Kate, Edwina, and their mother Mary travel to London from Bombay in the hopes of finding a husband for Edwina. According to NPR, Mary is the daughter of the Earl of Sheffield and his Indian wife.
Mary ran away with an Indian tradesman and married for love, rather than status, infuriating her parents. The tradesman had a daughter named Kate from a previous marriage, and the pair had Edwina together.
Years later, after the death of Mary's husband, the three women returned to London. The Sheffields agreed to give Edwina a large inheritance if she did what her mother refused to do — marry an English gentleman from the upper crusts of society.
Simone Ashley discusses 'Bridgerton' Season 2 celebrating Indian culture
Bridgerton is known for its diverse casting. Since season 2 aired, women of color have shared what it means to see female leads with dark skin in the Netflix series. "I'm so grateful and wonderfully overwhelmed by the response that we've received," Ashley told The Irish Times.
"I'm very proud of my heritage, and I'm proud that there are any effects that I've had, just me doing my job, especially if they're positive, and uplifting other women and making them feel seen."
While some fans have their critiques of the representation of race in Bridgerton, Ashley feels that Bridgerton celebrated the Sharma's culture throughout season 2. "It's 100 percent color-conscious casting, and not colorblind," the actor told The Irish Times.
"We are acknowledging the fact that these characters are Indian and they are women of color, but it's so beautifully done because when the Sharmas arrive, they fit in so seamlessly. It isn't on the nose that they're from India. And it's celebrated in so many different ways."
Ashley added, "We certainly haven't been brought to this series as two Tamil women for that to be completely ignored. It's celebrated completely in everything from the costumes to the makeup to the storyline to the scenes."
'Bridgerton' Season 2 has various nods to Indian culture
As Ashley mentioned, Bridgerton Season 2 featured a variety of nods to the sister's Indian culture. For example, the Sharmas use words of endearment like "Appa" for their father and "Amma" for their mother. Edwina refers to Kate as "Didi" (the Indian word for older sister) and Kate calls Edwina "Bon" (Bengali for sister).
In one scene, the Sharmas take part in the Haldi ceremony as they prepare Edwina for her marriage to Anthony. Another scene shows Kate applying oil to Edwina's hair. "I'm sure women from so many different heritages resonate with it," Ashley said of the scene. "It's such an intimate bonding moment between two women – two sisters – that I think a lot of women can relate to."
All episodes of Bridgerton are currently streaming on Netflix.
Source: Read Full Article