Bray Wyatt, Edge or Gable Steveson? WWE airs bizarre video at Money In The Bank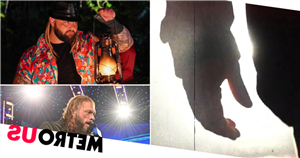 WWE fans are letting their imaginations run wild after a bizarre and cryptic vignette aired during Saturday night's Money In The Bank show.
Many viewers were left wondering if Bray Wyatt is poised for a shock return, while others pointed to Hall of Famer Edge or Olympic gold medallist Gable Steveson based on flashed in the creepy video.
Set in a church, the eerie clip featured a mysterious figure with flashes of religious imagery and references to stars from the Attitude Era.
As well as a license plate with the words Latino Heat (a nod to Eddie Guerrero's signature low riders), we also had what seemed to be Jeff Hardy's armbands and Bubba Ray Dudley's taped glasses.
One telling moment also featured a gold medal, which could have a couple of meanings.
The overall presentation of the video was reminiscent of Bray's early vignettes building to the Wyatt Family debut back in 2012, and most fans on social media were convinced he must be involved.
Source: Read Full Article