Boy Meets World cast look completely different as they reunite 23 years after 90s teen show ended | The Sun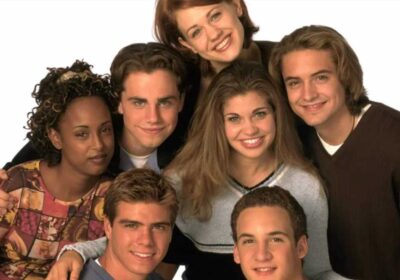 THE Boy Meets World cast look drastically different as they reunite 23 years after 90s teen show's departure.
Although the hit sitcom ended 23 years ago, fans are still happy to see the cast remaining together.
The show followed the life of Cory Matthews, his friends and his family and aired on ABC for seven seasons.
All the fan favorites from the cult comedy sitcom came together at this year's, I Heart Music Festival.
American Danielle Fishel, now 42, who played Topanga Lawrence in the cast of the ABC drama took to Instagram to share a group of photo with her "bff's forever".
She captioned the post: "Vegas for the #iheartmusicfestival2023 was AMAZING. I spent time with a few bffs forever Rider_Strong, Will Friedle, Lance Bass and Michael Turchinart), met a few ICONS (@realcoleworld, @thegr8khalid, @kanebrown), and danced to the one and only @officialtlc. Meeting @liltunechi is still on my bucket list but I had the best time. "
The stars looked thrilled to be reuniting as they all beamed at the camera while holding each other close in the photos.
23 years after the comedy classic, the actors look drastically different.
Danielle now appears more mature and glam as she updates fans with photos of her fun life on social media.
Rider Strong, who played Shawn Hunter also looks drastically different now at 43 years old.
Most read in TV
hot water
Holly Willoughby 'told not to wear a bra' by kids TV bosses in new misogyny row
GETTING LIPPY
Strictly's Giovanni kisses Amanda Abbington after steamy Samba – ending feud
JAC'S BACK
Jacqueline Jossa reveals she's making explosive return to EastEnders
'SUPERSTAR SIGNING'
Huge sports star in advanced talks to join I'm A Celeb
The actor now has more facial hair than hair on his head.
Eric Matthews' actor Will Friedle was also in the snapshot, and he looked totally different from the 18-year-old.
Danielle's character Topanga was Cory's girlfriend in the series.
Following its success, the show launched a spinoff that ran from 2014 to 2017.
Danielle went on to star in a few additional ventures after Boy Meets World, including anchoring The Dish on the Style Network from August 2008 to March 2011.
She has also directed shows for the Disney Channel, including Sydney to the Max and Raven's Home.

Source: Read Full Article