Box Office: 'The Invitation' Scares Away 'Bullet Train' on Historically Low Weekend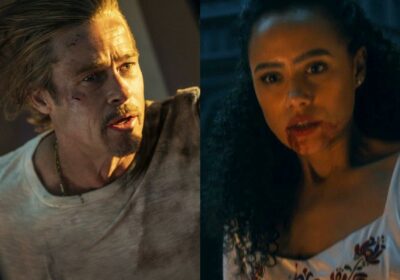 Nathalie Emmanuel's vampire horror flick leads the domestic chart on its debut weekend with just an estimated $7 million, while Brad Pitt's action comedy film bounces back to No. 2.
AceShowbiz -The North American box office welcomes several new faces this week, with "The Invitation" debuting atop the chart. The supernatural horror film claims the No. 1 spot with just an estimated $7 million on the weakest weekend of the summer domestically.
Starring "Game of Thrones" alum Nathalie Emmanuel, the vampire-themed film tells the story of a young woman who after her mother's death discovers dark secrets at her family home in the English countryside. It debuted on 3,141 screens and only cost $10 million to make. It's the lowest-grossing film to top the chart since "Spiral (2021)" opened to $4.6 million in May of last year.
The Jessica M. Thompson-directed film, distributed by Sony Pictures, is inspired by the novel "Dracula" by Bram Stoke but failed to make use of the popularity of the original work to build hype for the new movie. It received mostly negative reviews from critics, with a "C" CinemaScore from the audience.
Occupying No. 2 is another Sony film, "Bullet Train". The Brad Pitt-starring flick bounces back to the runner-up place after placing third last week, adding an estimated $5.6 million which brings its domestic gross to $78.2 million.
Idris Elba's "Beast" is pushed to No. 3 with approximately $4.9 million on its second weekend. "Top Gun: Maverick" holds on to the fourth spot with an estimated $4.8 million. It has made over $691 million in North America to date, making it the sixth-highest grossing domestic release of all time.
Last week's champion, "Dragon Ball Super: Super Hero", plunges to No. 5 with approximately $4.6 million after bringing in $20.1 million on its first weekend.
Overall, the weekend saw about $52.7 million in ticket sales from theaters across the states and Canada. The lagging results, however, were not unexpected as it's the time of the year when the business was low prior to the Labor Day weekend.
"We're in that what is often the typical August slowdown heading into Labor Day weekend," says Paul Dergarabedian, senior media analyst for Comscore. "This was to be expected, given the lineup of films this weekend."
To drum up the business, The Cinema Foundation, a non-profit branch of the National Association of Theatre Owners, has announced National Cinema Day, a one-day event that will see participating locations sell movie tickets for prices as low as three dollars. The event will take place this coming Saturday, September 3, with more than 3,000 theaters across the U.S. participating.
Top 10 of North America Box Office (Aug. 26-28, 2022):
"The Invitation" – $7 million
"Bullet Train" – $5.6 million
"Beast" – $4.9 million
"Top Gun: Maverick" – $4.8 million
"Dragon Ball Super: Super Hero" – $4.6 million
"DC League of Super-Pets" – $4.2 million
"Three Thousand Years of Longing" – $2.9 million
"Minions: The Rise of Gru" – $2.74 million
"Thor: Love and Thunder" – $2.7 million
"Where the Crawdads Sing" – $2.3 million
Source: Read Full Article