Big Brother engulfed in 'race row' as viewers claim Trish was 'targeted' after Olivia's 'sexism' snipe | The Sun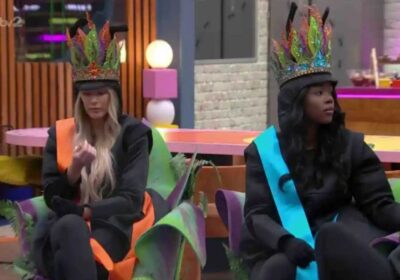 BIG Brother has been engulfed in a fresh "race row" after Trish was blamed for something Olivia said first.
Viewers claimed Trish was "targeted" over Olivia after the Scottish housemate accused Chanelle of being "anti-feminist" in a sexism snipe.
The housemates were divided into two teams and had to compete against each other to win the luxury shopping budget.
While dressed in ant costumes, each team elected a 'Queen Ant' – and they picked Noky and Chanelle.
But when Chanelle picked just men to take part in a strength challenge, Olivia accused her of being sexist with Trish agreeing and repeating the comments.
However, Trish was later pulled aside and told Chanelle was upset by her comments.
READ MORE ON BIG BROTHER
back off
Big Brother backlash as housemates turn on fan favourite
NEW FEUD
Big Brother viewers spot secret feud between two unlikely housemates
Taking to Twitter to complain, one viewer begged: "Can we get one season of big brother without racism please?"
One more said: "I can't help and notice the racism issue Big Brother are having."
And a third said: "Big Brother is so good at showing racism on a micro level."
It comes after Zak from Thailand was the second contestant to be voted out of the Big Brother house this week by the public, following muslim contestant Farida last week.
Most read in Reality
it's over
Geordie Shore star splits from wife and mother of his two kids
'pray for me'
Celebrity Big Brother legend rushed to hospital for life-saving surgery
STRICTLY OVER
Strictly shock as star is axed just two weeks after scoring a 10 from Shirley
TOUGH TIMES
Dianne Buswell reveals heartbreaking reason behind Strictly tears with Bobby
The lad, who has lived in Manchester since he was nine told The Sun he worries for the remaining non-white housemates Noky, Trish and Dylan.
He said: "It's the most diverse that the show has ever been, and there are so many characters in there, I was just amazed at the backgrounds, different genders and races.
"But myself and Noky had moments where we said to each other, 'If one of us go, it's going to be tough on the other [non-white housemates] Trish and Dylan.
"In Thailand, I probably would've won the show, but because we're in England, I have to take it as it is.
Big Brother continues tonight at 9pm on ITV2.

Source: Read Full Article