Bernie's unexpected crush on a major EastEnders character revealed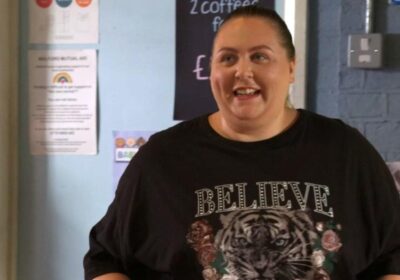 Bernie Taylor (Clair Norris) has revealed her secret crush in EastEnders, and it wasn't who we were expecting.
Bernie's day clearly started out badly when she received a hurtful message from Stacey Slater (Lacey Turner) over social media.
She made it clear how upset she was by deliberately bumping into her at the café, before addressing the comments outright.
Stacey tried to tell her that the messages weren't from her at all, but from a fake account made by sinister stalker Theo Hawthorne (William Ellis), but Bernie wasn't having any of it.
It wasn't until later, when Jean Slater (Gillian Wright) came into the café asking for a call to arms against Stacey's stalker that Bernie realised she was telling the truth.
To view this video please enable JavaScript, and consider upgrading to a webbrowser thatsupports HTML5video
Feeling bad about how she had acted earlier, Bernie headed to Stacey's meeting during a break from work in order to find out how best to help.
After returning to work, it became clear that Bernie had taken quite a shine to Stacey, and the strength she'd shown when addressing her neighbours.
Back in the café, Bernie headed back to work, but was quick to mention her newly developed crush on Stacey to Whitney and Zack (Shona McGarty and James Farrar).
Though at first she tried to deny that she had a crush on Stacey, she soon accepted it, but insisted that, with everything she was going through, she didn't need any more unwanted attention.
We suppose we should have seen this coming, given how eager Bernie had been to learn Stacey's Secret Cam username when her cam work was first exposed, but alas, we didn't.
With Bernie's thoughts on Stacey now out in the open, with Bernie having branded her 'amazing', will word get back to Stacey?
Source: Read Full Article