BBC Strictly's Layton and Nikita have 'grown closer' with 'strong connection'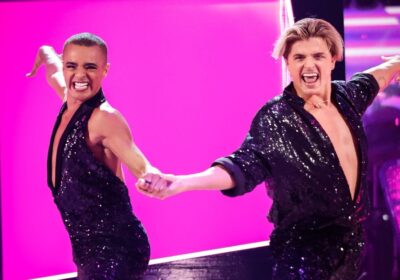 The competition is heating up on Strictly Come Dancing, with just nine celebrities left to battle it out for the Glitterball trophy.
Zara McDermott became the fifth star to be eliminated from the competition on Sunday, following Eddie Kadi, Jody Cundy, Nikita Kanda and Les Dennis. Amanda Abbington has dropped out of the show.
Layton Williams, Nigel Harman, Ellie Leach, Adam Thomas, Angela Rippon, Angela Scanlon, Annabel Croft, Krishnan Guru-Murthy and Bobby Brazier remain in the competition, and it looks like a few couples are slowly becoming frontrunners.
A body language expert has now weighed in on the Strictly stars' performances, claiming Layton and his partner Nikita Kuzmin's "incredibly strong connection" is helping them out on the dance floor.
Speaking on behalf of Betfair Casino, body language expert Darren Stanton said Nikita and Layton have surprised him and are growing closer each week.
"Layton and Nikita continue to surprise me. In the beginning, it was the Layton show and he definitely didn't want Nikita to take control. But as the weeks have gone on, the two of them have grown closer and that's shown through their tactile nature with one another," he said.
The duo have "proven their place" on Strictly and have shown they can take on any challenge, claims Darren.
He continued: "They've really proven their place in the competition and are a bit of a wild card. It's as though anything that is thrown their way, they can overcome and take it on. They have gone from strength to strength. They do have an incredibly strong connection, which is shown through the intimate gestures, as well as perfect mirroring with one another.
"They are now completely on the same page emotionally, and that's why it works so well. They are consistent and convey the same, reciprocated energy to each other."
The body language expert has his eye on another couple however, as he claims Nigel Harman and Katya Jones might have what it takes to lift the Glitterball. Darren said the pair's "consistency" and "complete synchronisation" puts them "on pa with previous winners" of the BBC One show.
The expert has also praised Ellie Leach's connection with Strictly pro Vito Coppola, saying it's noticeable that they feel "safe with one another" and their rapport has "continued to grow".
Elsewhere, Darren predicts two couples could be in trouble soon as the competition intensifies. He predicts Adam Thomas and Luba Mushtuk and Angela Rippon and Kai Widdrington could be "at risk" on this week's show.
Source: Read Full Article