BBC Strictly's Annabel Croft fights tears discussing 'horrific year' after husband's death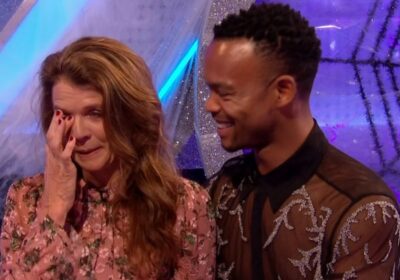 Strictly Come Dancing star Annabel Croft emotionally fought back tears as she reflected on her 'horrific year' during an interview about the significance of her upcoming dance with partner Johannes Radebe on the next live show.
The tennis star, 57, revealed on Tuesday's Strictly It Takes Two (31 October) that she would be dancing a Couple's Choice dance with Johannes, set to Wings by Birdy.
But she acknowledged that her dance carried a special and poignant tribute to her late husband Mel Coleman, who sadly passed away earlier this year, after a short but brutal battle with stomach cancer.
Discussing her upcoming performance, Annabel opened up about her struggles with grief as she told show host Fleur East: "It has been a horrific year, I can't even put it into words. Poor Johannes has had to cope with quite a few tears backstage and in rehearsal rooms and everything."
"It can come at anytime, grief is something you can't explain to anyone and it just comes in great big waves."
Annabel then continued, as she explained that this dance in particular was something she wanted to do in order to honour Mel and his love of all things Strictly Come Dancing.
She said: "So with this dance, I want to do this for Mel. There's a lot of meaning behind the dance and it's really really special to be able to do it."
"I just hope that Mel is watching from somewhere and hopefully will be proud."
As Annabel emotionally tried to contain her tears, Johannes soon weighed in on the situation from his own perspective as he explained: "If there's ever a moment, this is the moment that I feel I've been called for.
"Understanding now that Mel used to watch Strictly Come Dancing and love what it is that we do, I understand that this is more than just a dance."
He then added: "It's about this woman's children, who also have taken me in their home and made me part of their family. I think we're celebrating love here."
At the end of the interview, Annabel could be seen wiping tears from her eyes as Johannes opened his arms and welcomed her into a comforting embrace, a clear show of just how much the duo have bonded during their seven weeks of training so far.
The emotional admission comes just five months after Annabel's husband Mel Coleman tragically lost his battle with stage 3 stomach cancer, just eight weeks after originally being diagnosed.
Mel sadly died in May 2023, with his condition only being diagnosed after he had suffered from painful stomach cramps from two months.
Source: Read Full Article