BBC Morning Live host flooded with support as they return to show after health scare | The Sun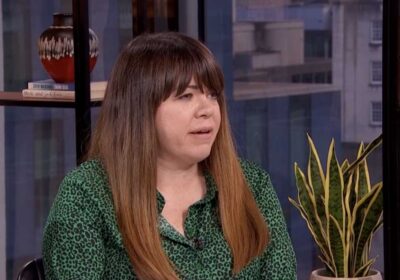 A BBC presenter has returned to Morning Live after suffering a potentially life-threatening health scare.
Briony May Wiliams revealed that she was admitted to hospital after a suspected blood clot on her chest. 
However she was welcomed back to the panel of the BBC's Morning Live show by Welsh presenter Gethin Jones and Helen Skelton earlier this week.
Host Gethin welcomed Briony back onto the show after leaving the show for a few weeks.
The celebrity chef revealed that she ended up in hospital after a severe health scare.
At the beginning of the show, Briony disclosed to Gethin that she ended up in hospital after doctors suspected that there was a blood clot on her chest. 
Read more on BBC Morning Live
break away
BBC Morning Live presenter announces break from show as she 'checks out'
family of four
Sam Quek gives birth hours after hosting BBC Morning Live
Fortunately, the TV presenter revealed that the health scare was due to a stomach ulcer she is healing from.
Briony explained: "I'm feeling much better now, thank you so much. A couple of weeks ago, I ended up in hospital with a suspected blood clot on my chest. 
"Luckily, it wasn't that, it turned out to be a stomach ulcer. I'm recovering and feeling much better and very happy to be here today."
Welcoming her back, Gethin replied: "It is nice to have you back, I'm glad you are alright too."
Most read in TV
'NO LUCK'
Amy Dowden pulls out of Strictly comeback as she's hit with another health issue
RUNNING MAN
From the route to how to track him – the lowdown on Vernon Kay's ultramarathon
on screen
Angellica Bell makes TV return after 'secret sacking' from the Martin Lewis' show
END OF AN ERA
Netflix axes FIVE series in most brutal TV cull yet – leaving fans devastated
He then followed it with an update about fellow Morning Live co-host Jonnie Irwin, who was diagnosed with terminal cancer in 2020.
He revealed that during a hospital admission over the weekend, Jonnie was given the good news that his blood tests and scans showed his liver function was "heading in the right", which allowed doctors to let him go home. 
Brave Jonnie usually updates fans about his cancer journey on social media. 
Recently, he took to Instagram and shared a picture of his young son Rex sleeping and himself on the sofa with the caption: "For now, I'm allowed home. I'm taking the small win for now. 
"Rex tried to stay up to welcome me home but couldn't quite stay awake, bless him, although Reggie and Ronnie were wide awake, so I got to [read] them a story. 
"Big, big thanks to all the doctors and nurses who looked after me I'm so grateful to be home."
The 49-year-old TV presenter was admitted to the hospital on Friday after described having a fever and acute stabbing pain in his right-hand side, which was diagnosed as jaundice. 
After giving the update on Jonnie's health, Gethin and co-host Helen wished their colleague the best and sent him their love.

Source: Read Full Article