BBC forced to apologise amid Heather Small racism on show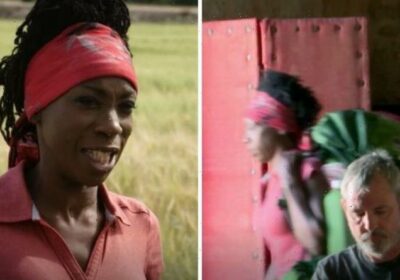 Pilgrimage: Heather Small discusses comment made by volunteer
When you subscribe we will use the information you provide to send you these newsletters. Sometimes they'll include recommendations for other related newsletters or services we offer. Our Privacy Notice explains more about how we use your data, and your rights. You can unsubscribe at any time.
The popular singer was taking part in Pilgrimage, The Road to Santiago, which aired on BBC in 2018. At one point during filming, the group of celebrities had entered a monastery, but one of the volunteers upset Heather in what she saw as a racist jibe. The show was repeated on Sunday, and showed the moment that Heather later said "almost ruined" the experience for her.
Heather could be heard saying: "No, there's a difference. it's alright, you can carry on your filming.
"But this is not a place for me," before she left and went outside.
She explained: "Somebody asks you where you come from, you tell them where you come from.
"And then they say 'oh the people I know from that country are blonde and blue eyed' and look at you with distaste so you know, what was he trying to say?"
She continued: "You know 'where you really from? where I'm really from – I'm really from the Christian community, where you from?'
"You know, it was a definite, definite diss. And it was on purpose because I saw him being nice to someone else.
"It wasn't his personality. He was obviously trying to make me feel uncomfortable."
She continued: "For me, that's not a Christian ethos. I don't care that the building is a monastery – a building's a building.
"It's the people inside the building that make a difference."
The rest of the group weren't sure what to say as Heather explained the remark and what it meant for her.
She said: "I don't really want to make sure a deal of it -I'm good, I'm finished now."
The show explores religion and sees a group of famous faces taking on a pilgrimage and delving into their own beliefs.
Other people who joined Heather on the journey were actor Neil Morrissey, entertainer Debbie McGee, comedian Ed Byrne, priest Kate Bottley, journalist Raphael Rowe and TV presenter JJ Chalmers.
Heather admitted around the time the show first aired that the comment nearly ruined the spiritual journey for her.
She said: "He only saw my colour and made assumptions and decisions about me.
"I could tell by the way he was speaking to me. It was a diss and on purpose."
Speaking to The Mirror, she continued: "When you're being treated as 'other', you always know.
"I could see the way he was dealing with the very fair Kate and then he'd look at me and it wasn't quite the same.
"He was trying to offend me." But luckily the star remained on the show, completing the journey.
Pilgrimage is currently being repeated and can be viewed on BBC iPlayer.
Source: Read Full Article