BBC faces backlash for 'cutting' out Joe Lycett jibe at Commonwealth Games opener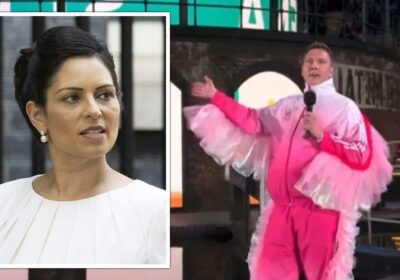 Joe Lycett says police were called to his show over a joke
We use your sign-up to provide content in ways you've consented to and to improve our understanding of you. This may include adverts from us and 3rd parties based on our understanding. You can unsubscribe at any time. More info
The outspoken comic took to the microphone for the Commonwealth Games opening ceremony on Thursday evening. The spectacle, which was held in Birmingham, aired on BBC One. However, the broadcaster is facing a backlash for "cutting" Joe Lycett's swipe at the Conservative Party out of a Twitter clip.
The 34-year-old donned a flamboyant pink tracksuit to present part of the sporting event.
He described himself as "Birmingham's answer to Sporty Spice," before introducing athletes from Asia to the packed stadium.
"I'm thrilled to be here next to all these pyrotechnics in this highly flammable outfit," he exclaimed.
He then took a brutal swipe at the UK Government, adding: "I'm going to do something now that the British government doesn't always do, and welcome some foreigners and welcome the region of Asia."
While BBC Sport shared a clip of Joe's presentation on Twitter, his political jibe was cut out.
BBC Sport commented above the video clip of Joe: "@joelycett, you MUST tell us where you got that outfit!" (sic)
Many Twitter users hit out at the broadcaster for missing the swipe out of the video.
Andrew Paul fumed: "Should've put all of what he said on."
@Bashmore added: "Don't cut out the Tory line. The Tories aren't going to like you more for removing it."
Matt penned: "I suppose posting this edited version knowing full well that you will get hundreds of people posting the full clip in the replies is a way of getting around government shackles."
Michael Herman said: "What are you scared of, you've left the most important bit off the clip?"
"I notice you didn't post all of what he said," Michael remarked.
Eddie Torrent added: "You really should show the entire clip."
The Conservative Party has faced criticism for its immigration policies, including the recent Rwanda asylum seeker scheme.
The initial deportation flight was grounded in June after a host of legal challenges and another attempt is yet to be scheduled.
Joe, who is from Birmingham, retweeted the clip which included the swipe.
He penned to Home Secretary Priti Patel above the video: "soz @pritipatel just a bit of banter tehehe." (sic)
The 2022 Commonwealth Games are running until August 8.
More than 5000 athletes from 72 countries will compete in 280 events for the Games.
The Commonwealth Games will be broadcast on BBC One and the opening ceremony is available to watch on BBC iPlayer.
Source: Read Full Article