BBC Breakfast backlash as viewers blast guest puppet presenter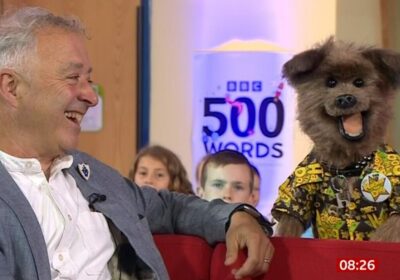 BBC Breakfast viewers were left baffled when a CBBC puppet named Hacker the Dog helped host Tuesday's instalment of the flagship news programme.
Sally Nugent was hosting the BBC show from the studio but her co-star Jon Kay was reporting from inside a school alongside Hacker as the broadcaster launched the 500 Words competition for young writers.
Taking to X, formerly known as Twitter, a frustrated AJ wrote: "Is this #BBCBreakfast or #cbbc?
Auld Bryan added: "#bbcbreakfast F****g hell… This should be on Blue Peter, not the BBC's flagship news channel…"
A third penned: "Will this 500-word segment ever end? Give us some news please #bbcbreakfast."
READ MORE BBC Breakfast host 'had a little cry' as she pays tribute to co-stars after exit
Another said: "#bbcbreakfast Could they dumb this show down any further?
"Tomorrow, Charlie and Naga will present the news with glove puppets on their hands…" (sic)
However, another user wrote: "We need Cocker on every #BBCBreakfast show starting with today. He's an absolute delight @BBCBreakfast."
Dylan shared: "Might start a petition so Hacker the Dog can be a permanent presenter. #BBCBreakfast."
Don't miss…
Sally Nugent loses it after spotting BBC co-star's doppelganger in clip[UPDATE]
BBC Breakfast's Naga Munchetty shuts down Ben Thompson as he says 'we never row'[INSIGHT]
BBC Breakfast forced to apologise as Huw Edwards back on screens in blunder[LATEST]
The 500-word initiative which Jon and Hacker were discussing will allow finalists to be invited to meet Queen Consort Camilla.
Hacker provided viewers with a mix of cheeky comments as he brightened up the segment.
Jon explained that in addition to meeting Queen Camilla, the winner would win the Queen's height in books.
We use your sign-up to provide content in ways you've consented to and to improve our understanding of you. This may include adverts from us and 3rd parties based on our understanding. You can unsubscribe at any time. More info
Later on, Hacker said he would write a story about meeting sporting legend Sue Barker.
When Jon said anyone's dreams can come true, the puppet snapped back: "No, they don't because she has a restraining order against me", leaving Jon in fits of laughter."
BBC Breakfast airs daily on BBC One from 6am.
Source: Read Full Article