BBC backlash as viewers blast return of Michael McIntyre's Big Show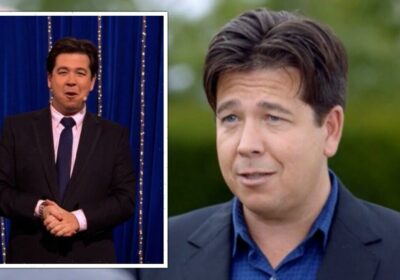 Michael McIntyre shares trailer for 'The Wheel' US
We use your sign-up to provide content in ways you've consented to and to improve our understanding of you. This may include adverts from us and 3rd parties based on our understanding. You can unsubscribe at any time. More info
Michael McIntyre's Big Show has returned after a three-year hiatus for its sixth series. During Saturday night's episode, an Antiques Roadshow fan got the shock of their life, Rylan Clark handed over his phone in the Send to All segment, and Joel Corry and Tom Grennan performed Lionheart for the audience. While some BBC viewers were delighted by the comedian's prime-time television comeback, others were not impressed.
Michael McIntyre's Big Show was last seen on screens back in December 2019.
The BBC One show started as a one-off special in 2015 and now boasts six seasons.
As the stage curtains opened, Michael told the cheering crowd: "Good evening ladies and gentlemen and welcome to my Big Show.
"Tonight will have big stars, big laughs and big surprises. Look at you all – back baby. It is so exciting to be here after three years.
"Quite a lot has happened in those past three years, get Brexit done, Megxit, protect the NHS, work from home, furlough, eat out to help out, Partygate, cost of living, energy crisis and God save the King. Enough!"
Just minutes into the show, viewers took to Twitter hitting out about its return, with Martin Walker fuming: "Michael McIntyre's TV show is on for the first time in about three years.
"Shame the gap can't be another three years. About as funny and entertaining as a bucket of wasps. Come on BBC you can do better!" (sic)
Glyn Bawden shared: "Never seen it before and popped it on for 10 minutes while we had our Chinese. I sincerely hope I never have to watch this again. What absolute, unmitigated garbage."
Drew Millward said: "Michael McIntyre's Big Show really feels like it should be on ITV, not paid for by us."
@LTB01620129 raged: How has this f******d managed to worm his way into prime-time television yet again?" (sic)
Despite the backlash, other viewers were thrilled to see Michael back on screens.
Danielle Jade penned: "Love Michael McIntyre's #BigShow. Something for everyone and perfect for Saturday nights."
Myra commented: "I missed Michael McIntyre's #BigShow and I'm so glad it's finally back."
The latest series was filmed at London's prestigious Theatre Royal in Drury Lane, with fans filling out the venue.
When news of the show returning was announced, BAFTA award-winning comic Michael said: "Three long years of me not getting my hands on a single celebrity's mobile phone, of people sleeping soundly without fear of me sneaking into their bedrooms… Well, the wait is over!"
He added: "We all know that (the past few years) has been a Perma crisis, so I'm trying to raise the spirits of viewers."
The 46-year-old reflected on the show's Send to All segment where he sends out a text to all of a celebrity's phone contacts as a prank.
"Amazingly, people do keep giving me their phone," he quipped.
"Although it's now on WhatsApp as apparently, people don't text anymore, which is actually a lot easier because we can group everybody in whereas before we had to frantically text everyone!"
Michael McIntyre's Big Show continues next Saturday at 6.50pm on BBC One.
Source: Read Full Article