BBC Antiques Roadshow guest floored at value of £1 vase he found at local dump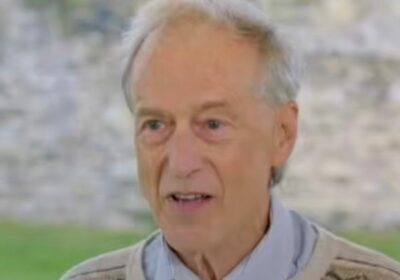 Bookmark
A bloke who picked up an old vase at his local tip for £1 was left gobsmacked when he was told by an Antiques Roadshow expert that it was worth more than two grand.
And antiques expert Eric Knowles said it was such a top piece that he wanted to hug it.
The moment was shown on Sunday's repeat instalment of the BBC's iconic antiques programme, with viewers taken to Portchester Castle on the Hampshire coast to see members of the public bringing in their items to be valued.
One chap brought along a red-toned glass vase decorated with an intricate underwater scene with fishes and coral.
READ MORE: Antiques Roadshow fans gobsmacked as battered briefcase gets eye-watering valuation
Eric Knowles told the viewers that it had been brought down from the north-west of England, and then asked the man to give him some more information about it.
The guest said: "Well, I take my gardening rubbish from time to time to our local recycling centres.
"They have a shed there where they put out things that might be reusable.
"I noticed this pot sitting on the shelf, so I asked the guy at the tip there how much he wanted for it and he said he'd like £1."
Eric – who's from Lancashire – said that Pilkington Pottery was close to his heart, and he said it's amongst the best there is.
He told the bloke: "Your vase encapsulated the best of Pilkington lustreware. The man who was responsible for starting all the lustre decoration was William Burton."
Eric said Burton had been brought into Pilkington from Wedgwood, and the creator and his brother would have gone through 3,000 trail pieces to create the ceramic perfection.
He added: "But the decoration… you know what? You can think I'm bonkers, I want to hug it."
The guest replied: "It's absolutely gorgeous and it just amazes me that anybody should want to throw it away."
Keeping the man on tenterhooks while he waited to give him the valuation, Eric told him the item was good enough to be in a museum.
He added: "The market is very healthy and the moment. This would make well in excess of £2,000."
The stunned owner of the vase replied: "Good heavens, good heavens. I love it even more now if you think it's worth that much!
"I certainly won't be parting with it."
For more of the latest showbiz and TV news from the Daily Star, make sure you sign up to one of our newsletters here
READ NEXT:
Strangest Antiques Roadshow items – creepy dolls, £1million fortune and mystery 'pebble'
BBC's The One Show erupts as Ted Lasso star makes bizarre 'shouting' confession
Emmerdale Marshall star's life – real age, past roles and heartbreaking storyline
Source: Read Full Article