'Barbie' Trailer: Margot Robbie and Ryan Gosling Realize Plastic Life Isn't Always Fantastic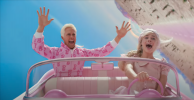 Margot Robbie is determined to find the place beyond the plastic dream world she's used to.
Robbie stars as the titular Barbie doll in Greta Gerwig's "Barbie," a musical take on the famed Mattel doll. Ryan Gosling co-stars as Ken, with an ensemble cast including Simu Liu, Kate McKinnon, America Ferrera, Issa Rae, Michael Cera, Kingsley Ben-Adir, Nicola Coughlan, Emerald Fennell, and more rumored to be playing various iterations of Barbie and Ken. Will Ferrell stars as a villainous toy executive.
The teaser for "Barbie" revealed the true high-brow/low-brow take on the beloved children's toy and collector items with a direct homage to Stanley Kubrick's "2001: A Space Odyssey." Director and co-writer Gerwig, who penned the script along with collaborator Noah Baumbach, revealed she was terrified to helm a film about iconic Barbie dolls.
"I think there's something about starting from that place where it's like, 'Well, anything is possible!' It felt like vertigo starting to write it," Gerwig recalled during an episode of Dua Lipa's "At Your Service" podcast (Dua Lipa is rumored to have a cameo in the film and an upcoming single track produced by Mark Ronson, who is overseeing the score). "Like, where do you even begin? What would be the story?"
Gerwig continued, "I think it was that feeling I had that it would be really interesting terror. Usually, that's where the best stuff is. When you're like, 'I am terrified of that.' Anything where you're like, 'This could be a career-ender,' then you're like, 'OK, I probably should do it.'"
Lead star Robbie also produces the Warner Bros.' film through her production company LuckyChap Entertainment. Oscar-winning costume designer Jacqueline Durran, who previously worked with Gerwig on her "Little Women," is behind the "Barbie" looks that have already gone viral with sneak peeks from the set.
Actor Liu teased the "big intricate dance sequences" fans can look forward to in the film, saying, "Greta was very, very conscientious about who she cast. We were able to cast people of different shapes, sizes, differently abled, to all participate in this dance —all under this message of: You don't have to be blonde, white, or X, Y, Z in order to embody what it means to be a Barbie or a Ken."
According to Liu, the film is "really about finding your inner beauty and owning that part of yourself and being the best possible version of you."
"Barbie" premieres July 21, 2023 in theaters. For all the details on "Barbie," click here. Check out the trailer below.
Source: Read Full Article