Are Anna Kendrick And Rebel Wilson Friends In Real Life?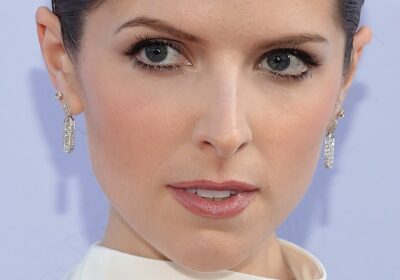 Rebel Wilson and Anna Kendrick have known each other for 10 years. The two actors met on the set of "Pitch Perfect," which began filming in late 2011 at Louisiana State University, via The Daily Reveille, LSU's student newspaper. Although the film was an ensemble piece starring Brittany Snow, Adam Devine, and Ben Platt (per IMDb), the movie's breakout stars were Kendrick and Wilson, who played Beca and Fat Amy, respectively.
For those who might need a quick refresher, the "Pitch Perfect" series, which has spawned three films, follows the Barden University Bellas, the school's all-female a cappella group, and their quest to become the national a cappella champions. Kendrick and Wilson's characters are two of the newest members of the Barden Bellas, who helped them win the title. The movie catapulted Kendrick and Wilson to stardom, and therefore, the two of them spent a lot of time together on the press circuit promoting the following two films.
But even though Kendrick and Wilson have spent so much time together, that doesn't necessarily mean they are friends. Sometimes people come together on movie sets and for publicity tours, but they aren't any more than co-workers. Once their jobs are done, they go their separate ways. But that doesn't seem to be the case for Anna Kendrick and Rebel Wilson, who have seemingly spent a lot of time together outside of work. Are they actually friends, though? Keep scrolling to find out!
Anna Kendrick posted a rare photo with Rebel Wilson on Instagram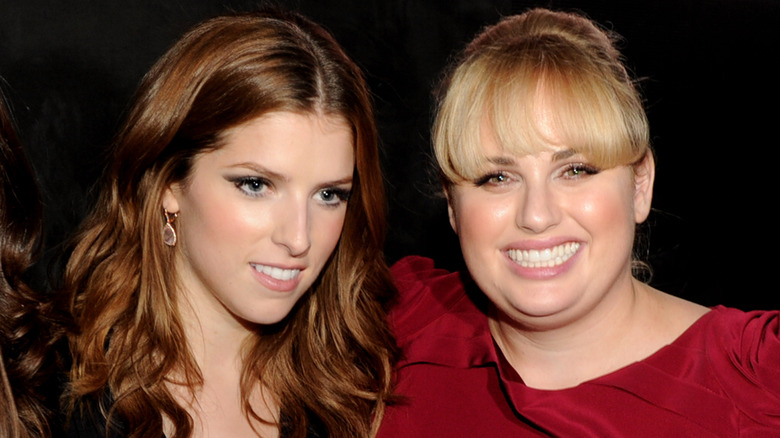 On September 12, Anna Kendrick posted a series of black and white photos on her Instagram celebrating her friendship with Rebel Wilson. Kendrick does not often post on the social media site (her post prior to the one with Wilson went up 10 weeks ago), so this new upload was notable. It seems the two are close friends, with Kendrick asking how she got "so lucky" to be friends with Wilson. "Ten years ago, in the bottom of a freezing, empty pool, this girl got stuck with me," she captioned the set of photos.
Kendrick appeared to be referencing a time on the set of "Pitch Perfect," specifically the "Riff-Off," where the Bellas competed against some other a cappella groups from Barden University in the bottom of an empty pool. Interestingly, the song the Bellas end up finishing the riff-off with was Wilson's favorite of the franchise, according to an interview with BackstageOL. So, it seems like Kendrick's and Wilson's first meeting was memorable for both women.
Kendrick posted a series of three photos, one of which looked to be from that first day on the set of "Pitch Perfect" and two others that appeared to be recent snaps from the last time they got together. In fact, Wilson and Kendrick recently celebrated a special occasion.
Pitch Perfect's Bellas reunited for Rebel Wilson's birthday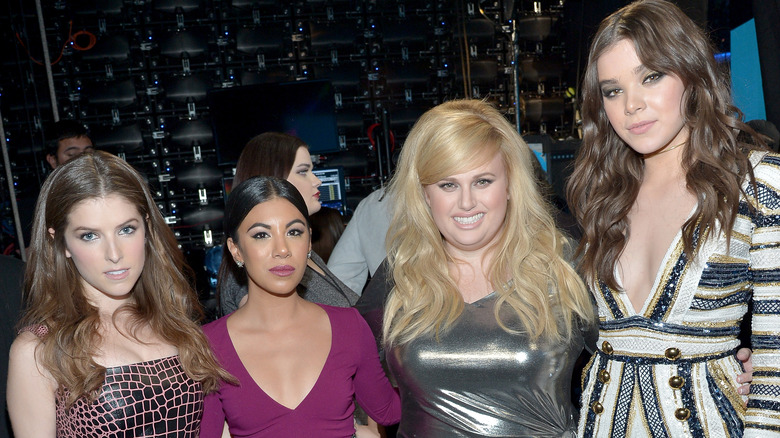 Over Labor Day weekend, Rebel Wilson belatedly celebrated her 41st birthday in Tahiti, as seen on her Instagram. The "Jojo Rabbit" actor invited a bunch of her friends to "Rebel Island" to mark her half-birthday, since she couldn't celebrate her actual birthday — which is in March — due to COVID restrictions. Their time on the Pacific island consisted of a bunch of activities, including a viewing of "Willy Wonka and the Chocolate Factory" and an '80s-themed beach day. Wilson posted a few different photos to commemorate the occasion, including one that featured members of the Bellas. 
Anna Kendrick and Brittany Snow were among those who traveled to the island nation for Wilson's half-birthday. The actor captioned the Bella beach photo with "Bellas be ballin' – could not love these ladies more! 10 years since we met and instantly harmonized. Love you ladies!"
The sentiment seems to be shared by a majority of the Bellas, including Kendrick. It seems like the actors love spending time with each other outside of work, and Kendrick once mentioned in an interview how much she and Wilson enjoyed being on set together, but also made sure to point out that the two enjoyed when they were able to hang out outside of work even more. Kendrick and Wilson's friendship looks like it's going strong, and fans are excited for even more Bella greatness from them.
Source: Read Full Article