Antiques Roadshow guest makes history as she learns eye-watering value behind 'garish' jewellery | The Sun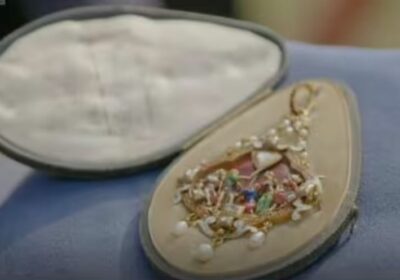 AN Antiques Roadshow guest made history as her unique pendant was worth thousands.
Antiques Roadshow expert John Benjamin was blown away by a near renaissance jewel never seen on the show in its 30 years.
Sunday's episode saw presenter Fiona Bruce in Clissold Park in Stoke Newington, where a unique pendant that caught the attention of expert John.
He told the guest he had never valued one on the show before and so he was overjoyed to see it.
He began: "Well now this is a teardrop shape rather severe dark-coloured jewellery box and when you open the lid it reveals something considerably more colourful and bold inside a splendid gold pendant."
He asked the guest if she liked it, and she responded: "It's a little bit garish. But yeah, I do like it. It's not my style."
John continued: "But it would have been your style if you had been around in the 19th century about 1870 to 1890.
"Jewellers in France and this country and all over the continent, make jewellery…[and] they try to make it look as if had been made in the 16th century.
"Now what we call that is Neo-renaissance another term [is] Tudor revivalism.
"Of course, this one we've got has an interesting piece of paper, server 1879, which does suggest that it is a 19th-century piece.
Most read in Reality
Gino D'Acampo reveals he's QUIT ITV show after 'very stressful' contract row
Huge C4 show axed and won't return for 2023 despite being hit with fans
Towie stars' secret relationship confirmed after 'best friends' claim
Gogglebox's Helena Worthington surprises fans with a rare glimpse of son Erwin
"But even if it wasn't, there are factors in this that tell me it's not quite as old as it's trying to be."
Admiring the colours, John added: "The enamel work is splendid. You've got the background red, and you've then got this quite complicated scene, haven't you? Where you've got five or six figures standing and sitting and crouching.
"Then have a look at this, did you see this large triangular-shaped stone? It's a diamond, but what we call a flat Lesko cut diamond.
"The frame, now this is the giveaway for me. This decorative device in this strap board, can you see this very detailed gold? Almost like little scrolls and hearts and that is much more 19th-century than the 16th-century.
"And then if I may, can I turn it over because you can always tell the quality of a piece of jewellery when the back is as good as the front."
Talking about what the pendant would make at auction, John revealed: "It would finish up making £10,000."
The guest was shocked as she replied: "Wow!"
And John was delighted as it was a first for him, adding: "I've not done a near renaissance jewel like this on the Antiques Roadshow in 30 years."
Read More on The Sun
I bought a tiny fluffy poodle but he kept evolving…he's now like a 15st horse
Coronation Street Maxine Peacock actress Tracy Shaw looks unrecognisable
"This is the first one. So can you imagine how much pleasure you've given me to talk to you about it?"
Antiques Roadshow airs on Sundays at 8pm on BBC One.
Source: Read Full Article