Antiques Road Trip expert astonished by huge profit on £15 sculpture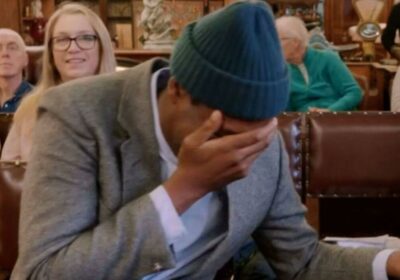 Antiques Roadshow: Guest shocked by value of paintings
We use your sign-up to provide content in ways you've consented to and to improve our understanding of you. This may include adverts from us and 3rd parties based on our understanding. You can unsubscribe at any time. More info
BBC Antiques Road Trip may be 26 series in, but it is still managing to surprise both experts and viewers. The daytime show sees experts given £200 to find curios to auction in order to try to turn a profit. Just four episodes into the current season, expert Ochuko Ojiri managed to make a significant amount on a sculpture.
He and fellow expert Margie Cooper were visiting antique shops in Malvern, Evesham, Upton-Upon-Severn, Tewkesbury and Cheltenham hoping to nab a bargain and and their final stop yielded the treasure.
Ojiri was clearly impressed as he spied a wooden sculpture in a Gloucester antiques shop.
"Wow! That stands out doesn't it?" he exclaimed. "How different is that?"
"I love objects for objects' sake. It doesn't have to do anything, it's just beautiful," he added.
On further inspection he was intrigued to find a credit on the piece however he could only make out the first name, Brian.
It took a bit more investigation to discover it was actually the work of Brian Wilshire, a renowned artist whose work was sold Liberty's and exhibited at the Royal Academy.
While his pieces are incredibly detailed he is famous for only using a band saw to make his creations.
His works currently sell from a few hundred pounds up to several thousand.
Despite realising he had a treasure, Ojiri still haggled and managed to get the shop owner down to £15 from the listed price of £28.
When the episode's auctioneer Jay Goodman-Browne saw the piece, it was obvious Ojiri's instincts were correct.
Asked prior to auction if anything stood out he said: "The wooden sculpture, really nice piece by Brian Wilshire, sculpted in the 1970s.
"He is a prolific London artist, very much got his inspiration from Barbara Hepworth and Henry Moore as well. So, I expect to this hit quite big money today."
Fierce bidding, both online and in the auction room, eventually saw the sculpture sell for £420.
However, its £415 profit is still a long way off the biggest money ever made on the show.
In episode five of series 15 a rare antique camera, bought for just £60 by Paul Laidlaw, sold for an extraordinary £20,000.
Paul stumbled upon it while shopping for curios and collectables in Margate, Kent.
He inspected a boxed optical instrument closely, which led him to believe it was a primitive sub-miniature camera.
Photographic experts later confirmed Paul's find was one of Auguste Bertsch's extremely rare 19th century Chambre Automatique cameras — essentially a camera combined with microscope.
Paul's record profit smashed the previous best: a Tibetan bronze deity bought for £50 by Anita Manning, which sold for £3,800 in 2016.
The experts don't get to keep what they make on the show and all profits are donated to Children in Need.
Antiques Road Trip is on BBC1 weekdays at 3.45pm
Source: Read Full Article