And Just Like That… Sets Season 2 Return on Max — Get Release Date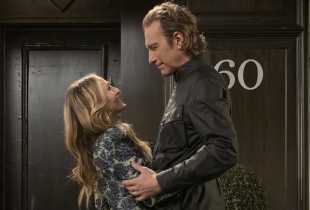 This summer, sex and New York City are once again going hand in hand: And Just Like That… is set to return to Max for its 11-episode second season on Thursday, June 22, the streamer announced Wednesday. The sequel series will release two episodes to start, followed by one additional installment weekly on Thursdays.
After Carrie spent last season grieving the abrupt death of Mr. Big, the upcoming sophomore season of Max's Sex and the City continuation will look to the future with a lot more optimism. Said executive producer Michael Patrick King: "A lot of Season 2 is an address to the reaction to Season 1 in my thought process. 'Oh, it's dark. Oh really? That's necessary because the opposite of dark is light, so this is light. And if that was winter, this is spring.'"
A recently released and very juicy teaser for the show's next outing includes talk of "MILFs," Miranda taking her relationship with Che to the next level and, of course, Carrie reuniting with a man she thought she'd left in her past. In addition, Season 2 will see John Corbett appear in multiple episodes as Aidan Shaw, Carrie's ex-fiancé from the original series. (Max confirmed the casting in January by posting a first-look photo of Carrie and Aidan holding hands on Instagram.) Sitcom veteran Tony Danza will also join the cast as himself, who's been cast to play the TV father of Miranda's (controversial) new flame Che Diaz, played by Grey's Anatomy alum Sara Ramirez.
And Just Like That… premiered in December 2021 with a 10-episode freshman season that shocked fans by killing off Chris Noth's Mr. Big in the first episode. Sarah Jessica Parker reprises her Sex and the City role as Carrie Bradshaw, with Cynthia Nixon and Kristin Davis returning as well as Miranda and Charlotte. (Original star Kim Cattrall, who played pal Samantha Jones, is conspicuously absent from the revival, though Carrie still stays in touch with Samantha off-camera.)
Excited to catch up with the ladies this summer? Sound off in the comments!
Source: Read Full Article