Ana de Armas, Michelle Williams and More Stars Who Have Played the Iconic Marilyn Monroe Through the Years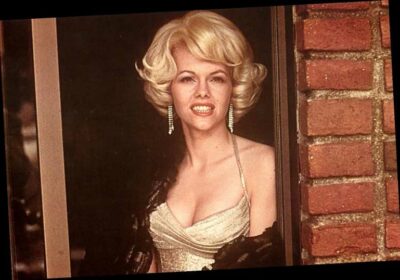 Misty Rowe
In 1976, Rowe played a young Marilyn Monroe in Goodbye, Norma Jean. 
1

of

16
Paula Lane
Lane starred as Monroe in the 1989 movie Goodnight, Sweet Marilyn. The film was a follow-up to the 1976 film Goodbye, Norma Jean. 
2

of

16
Catherine Hicks
Hicks played Monroe at various stages of her life in the TV movie, Marilyn: The Untold Story, in 1980.
3

of

16
Theresa Russell
Russell stepping into Monroe's shoes — well, heels — when she played her in the 1985 British film, Insignificance. 
4

of

16
Susan Griffiths
In 1991, Griffiths — who has been impersonating Monroe in movies, advertisements and TV shows for decades — got the chance to play the actress in the TV movie Marilyn and Me. 
5

of

16
Barbara Niven
Niven starred as the screen siren in The Rat Pack in 1998. 
6

of

16
Melody Anderson
Anderson played the blonde bombshell in the 1993 TV movie, Marilyn & Bobby: Her Final Affair, which was a fictional account of the alleged affair between Monroe and Robert F. Kennedy. 
7

of

16
Ashley Judd
Judd starred as Monroe before she found fame, when she was Norma Jean Baker, in the 1996 HBO original movie Norma Jean and Marilyn.
8

of

16
Mira Sorvino
Opposite Judd, Sorvino also starred as Monroe in Norma Jean and Marilyn, channeling the famous actress after she turned herself into a superstar. 
9

of

16
Poppy Montgomery
The Australian actress took her turn as Monroe in the 2001 miniseries Blonde.
She told Entertainment Weekly, "When I told my mother I got the part of Marilyn Monroe, she didn't even bat an eyelash. She said, 'Well, you've been rehearsing for it your whole life.' "
10

of

16
Charlotte Sullivan
In 2011, Sullivan appeared in one episode of the eight-episode miniseries The Kennedys as the blonde bombshell and performed Monroe's infamous "Happy Birthday" to President Kennedy at his 45th birthday. 
11

of

16
Michelle Williams
Williams transformed into Monroe for the 2011 film My Week with Marilyn. Williams won a Golden Globe Award for her portrayal of Monroe and was nominated for an Academy Award. 
Williams told The Hollywood Reporter of portraying Monroe authentically, "For me, the most crucial discovery — the flash — was that the widely accepted image of Marilyn Monroe was a character that Norma Jean played."
She added, "Unless you study her and understand her a bit better than the commonly accepted view, one could miss who she was underneath that. Marilyn was a part she played." 
12

of

16
Uma Thurman, Katharine McPhee and Megan Hilty
In 2012, the three actresses each took their turn as Monroe in Smash, a series about the staging of a fictional Marilyn Monroe musical, appropriately named Bombshell. 
13

of

16
Blake Lively
Lively briefly channeled Monroe for a dream sequence in the 100th episode of Gossip Girl in 2012, donning Monroe's iconic hot pink outfit and lip-syncing "Diamonds Are a Girl's Best Friend." 
14

of

16
Kelli Garner
Garner played Monroe in the 2015 miniseries, The Secret Life of Marilyn Monroe. Garner told Today that she was "extremely apprehensive" to take on the role. "It's Marilyn Monroe, you know? Those are really, really big shoes. And I wasn't sure if I could pull it off." 
15

of

16
Ana de Armas
de Armas is the latest actress to step into Monroe's shoes; she stars as the late actress in the upcoming film Blonde. 
The Knives Out actress told The Sunday Times that it was hard work perfecting Monroe's signature breathy voice. 
"I tried!" de Armas said. "It only took me nine months of dialect coaching, and practicing, and some ADR sessions."
"It was a big torture, so exhausting. My brain was fried," she added. 
16

of

16

Source: Read Full Article