'American Born Chinese' Review: A Sweet Teen Odyssey with Killer Moves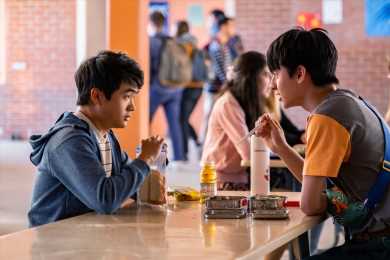 What does it mean to be a hero? In a Disney show or movie, it usually means superpowers or suits or several rings — the external vectors for an inner chivalry that was there all along. It's the kind of heroism that pops up across Marvel, Star Wars, and numerous other Disney features and series, and which fuels Kelvin Yu's "American Born Chinese," based on the graphic novel by Gene Luen Yang.
The series opens with a daunting title card detailing the celestial war afoot: The bull demon (Leonard Wu) wants to destabilize the jade emperor, but the monkey king (Daniel Wu) defends the throne with his magical staff staff jingo bang — which has gone missing. The monkey king pursues the thief in the heavenly realm during the first scene, packed with the lush visuals and deft action that Cretton deployed in "Shang-Chi and the Legend of the Ten Rings."
But after the dense setup and dazzling action teaser, "American Born Chinese" settles into its main course, the daily life of one Jin Wang (Ben Wang). Jin wants to be normal, and where so many similar stories conflate normal with white, this one doesn't — at least not explicitly.
Jin wants to play soccer and get a girlfriend but not at the cost of his culture, his nerdy friends, or his identity. Wang portrays, with skill, the restless uncertainty of adolescence in Jin's every interaction, never losing that healthy dose of skepticism or thirst for sincerity as his divine quest starts to reveal itself.
That quest arrives in the form of new student Wei-Chen (an outstanding Jim Liu), the monkey king's son seeking shelter and guidance on Earth. Liu is arrestingly, often comically earnest, making the switch to his set piece fight sequences all the more satisfying — and he's only the tip of a fine ensemble.
Early teasers have hyped the on-screen reunion of "Everything Everywhere All At Once" stars Michelle Yeoh, Ke Huy Quan, Stephanie Hsu, and James Hong, but the cast is brimming with Asian excellence through and through. Yeo Yann Yann gives a moving performance as Jin's mother, involved and encouraging but never overbearing, and always with a sense of humor. Yeoh is clearly enjoying herself, now a master of absurd action, as is Ronny Chieng after stealing scenes with his work in "M3GAN." Quan's story leaves a mighty impression as it unfolds separate from the others, its purpose concealed until the final hours.
What strikes one immediately about "American Born Chinese" is the quality — a show uniquely at the intersection of Disney's superhero action empire, kid and teen programming, and prestige projects propelling representation on other platforms, like Lee Sung Jin's "Beef."
In Yu's hands, the series is never burdened by its various influences and genres. Nothing about it feels gimmicky, the writing rooted in reality while tackling the clash of gods and demons. The word "race" does not appear once, but impacts Jin's existence in ways every minority will relate to, from seemingly innocuous comments to well-intentioned authority figures to a pervasive meme that gets unexpectedly under his skin. The writers tread well-worn high-school territory — the elusive crush, the coveted party, the athletes and nerds — in a way that feels both fresh and authentic to lived experience.
Cretton stamps the combat scenes with swift, agile movements from both actors and camera that propel each action sequence forward. There's barely any blood, nor gruesome injuries, one of the indicators that this is a family show; for as wholesome as "American Born Chinese" is, it doesn't talk down to any part of its audience the way so many shows aimed at children and teens do. There are hints now and then — the clean language, the high school party where Jin fills up on… hot dogs — but the show doesn't suffer for broadening its appeal. After eight episodes, the "normal" moments will stay with viewers long after the final battle.
Grade: B+
All episodes of "American Born Chinese" premiere May 24 on Disney+.
Source: Read Full Article