Amanda Holden faces Britain's Got Talent backlash after slamming 'cheesy' act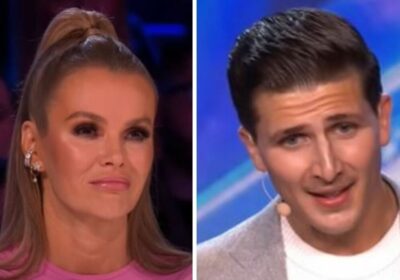 BGT: Amanda and Alesha brand act 'corny and cheesy'
On Saturday's instalment of the ITV talent competition, viewers saw hopeful contestant Lewis Fuller take to the stage.
The singing musician put on a spectacle for judges Simon Cowell, Alesha Dixon, Amanda Holden and Bruno Tonioli in the hopes of earning a place in the next round.
While singing a rendition of All I Want by Kodaline, Britain's Got Talent viewers were blown away by Lewis as he told a story of two lovers with a magical twist.
With disappearing pianos, a floating woman and turning a sheet into rose petals, his act earned a standing ovation from Simon, Bruno and the audience.
However, two of the judges remained seated, clearly unimpressed with what they had watched.
READ MORE: Stephen Tompkinson hit by double death family tragedy after fireball car crash
When it came to giving Lewis feedback, Alesha said: "Well that was different, wasn't it?
"If I'm being honest, I found the whole thing a little bit corny, if that's the word to use."
Receiving an audible disagreement with the audience, Lewis told the judge he was a "hopeless romantic".
Although it seemed Amanda also wasn't blown away by his magical act as she commented: "I'm going to be honest, I agree with Alesha. I did find it a huge cheese-fest.
Don't miss…
Repair Shop expert bids farewell to co-star in emotional tribute[VIDEO]
Bargain Hunt star Caroline Hawley's life and famous husband explored[INSIGHT]
EastEnders' Danny Dyer teases possible Mick Carter return after dramatic exit[SOAP]
"I don't think I'd want to see more of it, I'm sorry."
Despite her criticism, Alesha said yes to Lewis going through along with Bruno and Simon.
However, both her and Amanda's strong feedback didn't go down well with viewers at home who slammed the judges for their comments.
Beautifulmary85 slammed: "So Alesha and Amanda think some weirdo prancing around in pants saying he's wearing them can go through and is "talented" yet complain this talented man with a brilliant idea was corny. Stupid. Get them off."
Cathalhaughey02 added: "The audacity for Alesha and Amanda to call actual talent 'corny' yet s**t talent goes through. This is why people don't like the show."
ThomasF24943789 tweeted: "Alesha, Amanda and Simon have no idea what they're talking about, Lewis Fuller's audition was fantastic. He has made it to my top 5, wait no, top 3 acts I've seen on @BGT this year. I really hope he makes the live shows. He deserves it."
Richiew4ever said: "The same Amanda and Alesha calling Lewis 'corny' the same ones who put through a bloke messing about in his underpants and a farter."
WhoPotterVian commented: "How the heck could Amanda Holden and Alesha Dixon find it 'corny'? Lewis Fuller's act was utterly amazing. We could be looking at the winner of this year's BGT!"
With mr_chambers_reeling: "And Amanda and Alesha had the nerve to complain that the singing magician was 'cheesy'?!!…."
Britain's Got Talent continues Saturdays on ITV from 8pm.
Source: Read Full Article