Am I Being Unreasonable – Seline Hizli's co-star 'couldn't stand' her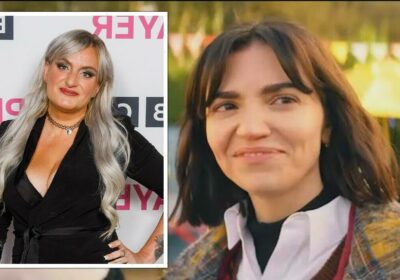 Daisy May Cooper receives phone call from publishers
We use your sign-up to provide content in ways you've consented to and to improve our understanding of you. This may include adverts from us and 3rd parties based on our understanding. You can unsubscribe at any time. More info
Seline Hizli and This Country star Daisy May Cooper have joined forces for the all-new BBC comedy thriller series Am I Being Unreasonable. The programme follows the story of a lonely village mother called Nic, played by Daisy, who is grieving a man she cannot tell another soul about. When Seline's character Jen comes into the picture, the pair become good friends, but the actresses didn't get off to the best of starts in real life.
Seline and Daisy have addressed rekindling their friendship through the coronavirus pandemic when they both realised they were in unhappy relationships.
They explained how lockdown brought them closer together and gave them inspiration for the show Am I Being Unreasonable during a recent BBC press event.
Seline told Express.co.uk and other media: "So Daisy initially could not stand me."
"When I met her I thought I f*****g hate her, honestly, the first time I met her was in a canteen and I thought she was a Lily Allen wannabe," Daisy quipped.
However, Daisy went on to explain she and Seline became close friends after that and she got Seline to play a character called Tracy in the pilot of her BBC comedy This Country.
This Country, which was written by Daisy and her brother Charlie Cooper is a mockumentary which follows the day-to-day lives of two cousins living in a small village in the Cotswolds.
Daisy continued: "I am not sure if you know the story of This Country but I am the biggest flake and the part didn't get included. So yeah I just ghosted her."
"It was just devastating, it was awful. So I had avoided her for ages, it was years."
She turned to Seline and admitted: "We did season three of This Country and you came to see it and there was a drinks thing and I just saw you across the room and you were cleaning toilets at this point.
"I saw her and she looked so lost and we went out by the stairs and she broke down and said how lost she was."
"I didn't really care much about her breakdown, I just didn't want to talk to other people," Daisy joked.
The 36-year-old explained she felt lost during the pandemic and decided to phone Seline and they bonded over "toxic femininity".
Toxic femininity is a theme which runs through Am I Being Unreasonable as the women's characters have to navigate their way through playground politics.
Seline added: "We had hatred bonding and trauma bonding. We were having very similar experiences in lockdown."
Daisy explained her marriage broke down and Seline helped her get through things as she had to move out of her marital home.
Seline, 33, warmly added: "We sort of found each other in the midst of this mad experience which everyone was going through.
"We had grown so far apart, it was like the only thing that could bring us together was a global pandemic."
Daisy went on to write the six-part comedy series which lands on BBC One on Friday, September 23 at 9.50pm.
Am I Being Unreasonable episodes are now available to watch on BBC iPlayer.
Source: Read Full Article