All The Ways Steve Irwin's Kids Are Carrying On His Legacy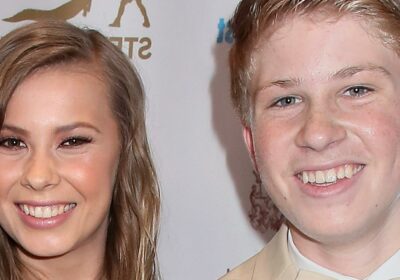 The death of beloved conservationist Steve Irwin at age 44 left his family and his legions of admirers around the world in a state of shock. Star of the hit docu-series "The Crocodile Hunter," the energetic Australian began wrangling snakes at the age of six and went on to tangle with some of the world's most dangerous animals during his TV career, which was cut tragically short in 2006. Steve was off the coast of Queensland filming a special called "Ocean's Deadliest" when he died, though it wasn't one of the ocean's deadliest creatures that killed him — Steve lost his life in a freak stingray attack.
According to Justin Lyons, Steve's longtime friend and his cameraman that day, they came across an "extraordinarily large" stingray in chest-deep water. "It was eight-foot-wide, massive," Lyons told Australia's Studio 10, adding that while stingrays "are normally very calm," this one appeared to mistake Steve for a predator. "All of a sudden, it propped on its front and started stabbing wildly with its tail," he continued. The usually placid creature's barb pierced Steve's heart.
Steve reportedly planned to use the giant stingray footage on his daughter's show, "Bindi the Jungle Girl." His first-born is just as into wildlife as he was, and his son, the ever-growing Robert Irwin, is a chip off the old block, too. With the support of their mother, American-Australian naturalist Terri Irwin, Bindi and Robert Irwin are doing their utmost to keep their late father's legacy alive. Here's how.
Bindi Irwin vowed to follow in her dad's footsteps at his memorial service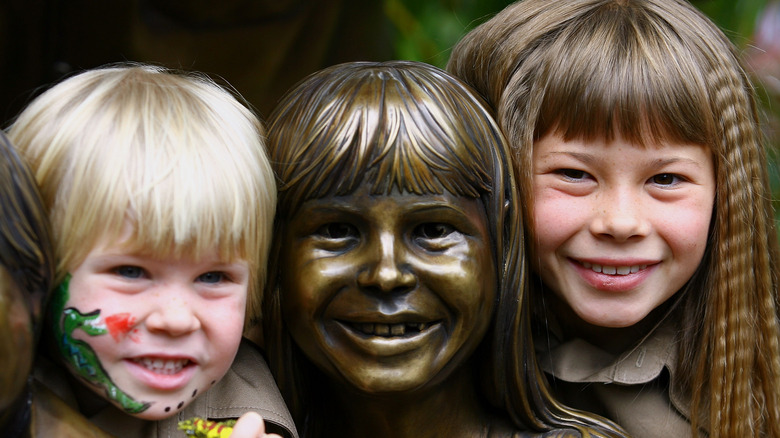 Steve Irwin's daughter was already comfortable in front of the cameras when he tragically died in 2006, having begun work on her own kids wildlife show with his help. When a then eight-year-old Bindi Irwin took to the stage to speak at her father's memorial service, she made it clear that she was in the family business for the long haul. "I don't want daddy's passion to ever end, I want to help endangered wildlife just like he did," she announced to a crowd of over 5,000 at Australia Zoo's Crocoseum. "I know that daddy made this zoo so everyone could come and learn to love all the animals. Daddy made this place his whole life, now it's our turn to help daddy."
Bindi's composed and compassionate speech "won the hearts of a nation and gave her grieving family hope for the future" according to The Sydney Morning Herald, which heaped praise on the youngster for upstaging the likes of Russell Crowe, Kevin Costner, and Cameron Diaz on the day. Additionally, her younger brother would grow up to become just as committed to the Irwin cause. "For both of us, we've always just had such a huge passion for wildlife and conservation," Robert Irwin shared when the whole family sat down with CBS in 2020.
Bindi and Robert Irwin came to a crossroads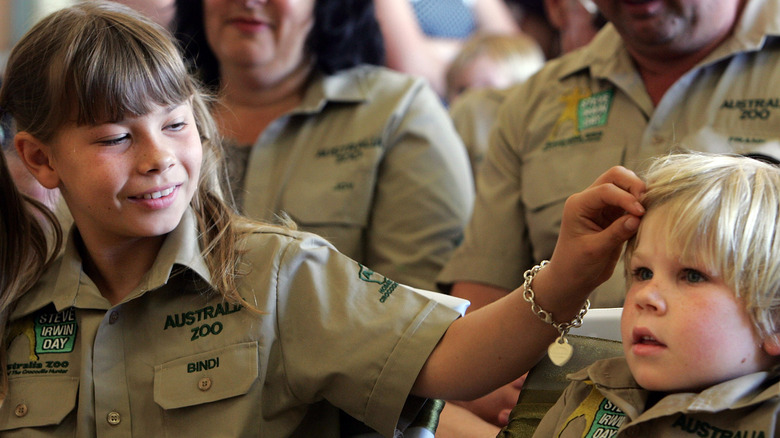 Losing a parent is tough at any age, but both of Steve Irwin's kids were still in single digits when he died, making it all the more tragic. Nobody would have blamed Terri Irwin if she'd decided to keep her children away from wild animals given what happened to their dad, but that wasn't what she wanted — and it wasn't what the kids wanted, either. "In anyone's life if you lose someone that close to you, you end up coming across these crossroads where you can either curl up in a corner and just forget about everything or stand up and remember that person and celebrate their life and legacy," Bindi Irwin told ITV's This Morning.
The late conservationist's daughter was being interviewed alongside her younger brother and her mother, who beamed with pride as Bindi spoke passionately about continuing Steve's important work. "As a family we want to make sure that dad's mission carries on into the future, and I truly believe we've been put on this planet for a reason and a purpose — to create positive change so the future generations can have a beautiful world," she continued. The Aussie animal lover went on to dub the Irwin family "Wildlife Warriors," the name of the organization founded by her mom and dad back in 2002. Today, Bindi is on the board of directors.
Robert Irwin helped make his dad's Africa exhibit dream a reality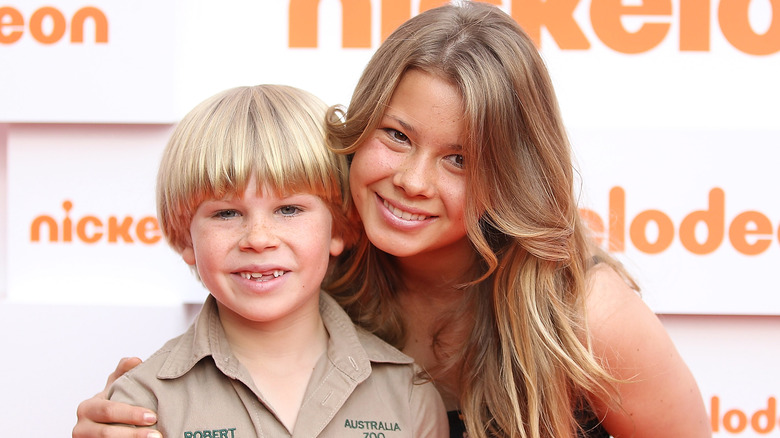 Queensland's Sunshine Coast Daily has revealed that Robert Irwin was sometimes "inconsolable" about his dad as a child, but he still did his part to honor Steve Irwin's legacy. At age 7 Robert joined his family at the opening of Australia Zoo's Africa exhibit, "fulfilling the first stage of a huge dream of the late Crocodile Hunter," the Aussie newspaper said. Today, that dream is complete — the open plains of the Africa exhibit are teeming with zebras, giraffes, cheetahs, rhinos and more.
Of course, it's crocodiles that Steve remains predominantly known for. Incredibly, he began wrestling crocs when he was just 9 years old ("His father, a plumber who had opened a small reptile park on the Queensland coast, taught him to stalk salties at night and lug them out of the water," Smithsonian Magazine confirmed), and his son wasn't far behind him. Like his sister before him, Robert was 10 years old when he participated in his first croc feed, a real "right of passage," as he told CBS. By age 15, Robert was doing the feeds by himself. "All of the training with the crocodiles that I've done, and getting to do the solo feeds now, I definitely feel close to dad because that really was his passion," he told Stuff.
Bindi Irwin did Dancing with the Stars to make her dad proud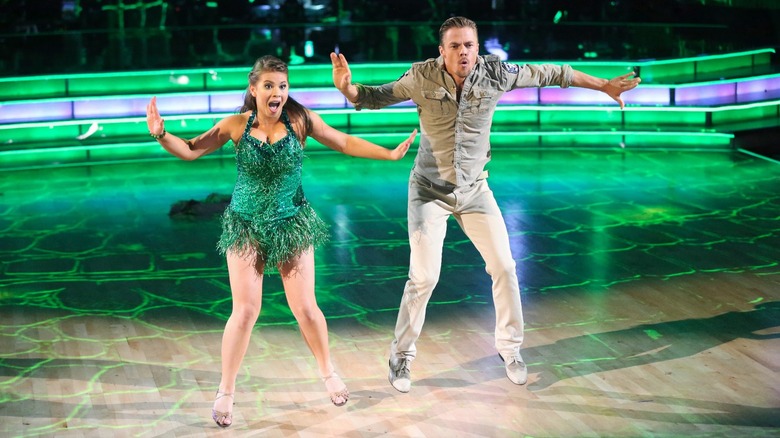 Bindi Irwin was just 17 when she appeared on "Dancing with the Stars" in 2015, but the Aussie teen blew away the older competition week after week. She and her pro partner Derek Hough brought the house down when they jived to Elton John's "Crocodile Rock" on opening night, with Hough even wearing khaki as a tribute to Steve Irwin. According to Bindi, her father loved watching her dance. "My mum always said that anytime dad would watch me dance around the zoo that he would cry," she revealed on the show. "I think that the real reason I'm doing this is to make him proud."
Bindi went on to do just that, cruising to the final of Season 21 and winning it emphatically. Bindi's routines scored a perfect 30 out of 30 on the night, and when E! News reporter Sibley Scoles caught up with her after the event, she asked the Aussie how important her victory was for the Irwin family legacy. "For us, we really want to make sure that dad's legacy and message continues," Bindi said before revealing that she'd made a convert out of her dance partner. "Derek has officially become a Wildlife Warrior now and we're taking on the planet, and just doing everything we can to make a difference."
Robert Irwin channelled his dad during his late night TV debut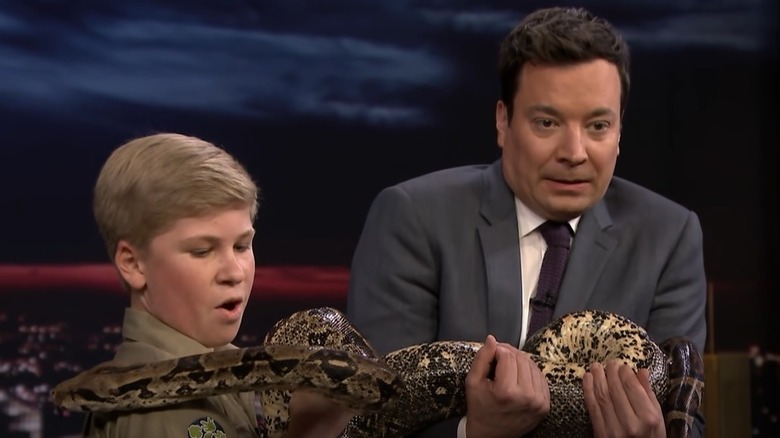 L.A.'s annual Steve Irwin Gala Dinner is "a celebration of the life and legacy of the original Wildlife Warrior," according to the event's official website; in 2017, the late conservationist's son flew to the States early to promote it. It was during this trip that he made his late night TV debut, charming everyone on a memorable episode of "The Tonight Show Starring Jimmy Fallon." It was a huge moment for the knowledgeable 13 year old. "My dad was actually on 'The Tonight Show' quite a while ago," he told Fallon, "so it's really nice to be able to follow in his footsteps, it's really great!"
Like everyone watching around the world, the host was blown away by how similar Robert Irwin was to his father, not only in appearance, but in his sheer enthusiasm for wildlife. "It's so cool to see you like this, you're actually your dad," said Fallon, who got constricted by a snake and cuddled by a sloth during the segment. The Aussie teen's hilarious appearance on the show quickly went viral, and he's been invited back several times since, usually upping the ante when it comes to the weird and wonderful animals he brings along with him.
Steve Irwin's kids attended his Hollywood Walk of Fame ceremony in his honor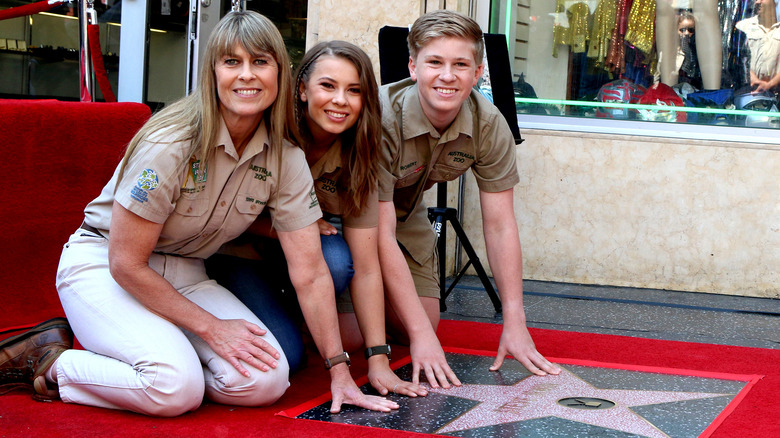 When Robert Irwin returned to "The Tonight Show Starring Jimmy Fallon" in 2018, he wasn't just in America to do the late night TV rounds. He, his sister, and his mom were Stateside for a very special reason: the unveiling of Steve Irwin's posthumous star on the Hollywood Walk of Fame. "It was such an amazing honor," the khaki-clad teenager told Fallon. "A really, true honor for us, because he's one of the only conservationists honored on the Walk of Fame. So it's great to continue his message, and really keep his dream alive."
Robert went on to reveal that his dad's location on the Walk of Fame is close to Johnny Cash's star, which Steve would have apparently gotten a real kick out of. "Whenever we'd go camping, dad would sit by the fire and sing Johnny Cash," Robert recalled. "That was his thing. So, it's really special." It was an emotional day for him and his sister, who teared up as she addressed the people that had come out to celebrate with them. "I have to tell you that I never in my wildest dreams imagined that this would become a reality, and this is such an honor as a family to continue in dad's footsteps," Bindi Irwin gushed (via Entertainment Tonight).
Steve Irwin's 'important work' is at the heart of his family's show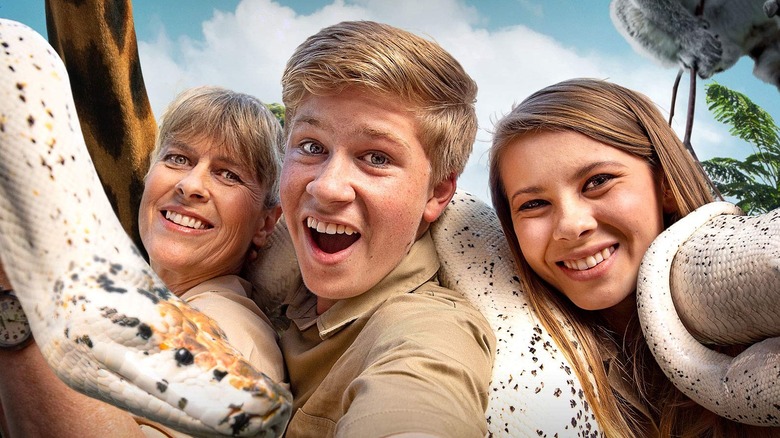 In 2018, Steve Irwin's family returned to TV with their new Animal Planet series "Crikey! It's the Irwins," which follows them and the residents of their world-famous zoo as they go about their daily lives. When the network (who always "kept in touch" with the family after Irwin's death, his wife said) confirmed that it was interested in doing a new show that reiterated the importance of the late conservationist's message, his kids were on board in a heartbeat. "We can't wait to share our story with you as we continue dad's important work," Bindi Irwin tweeted. "This feels like a beautiful new life chapter."
The family found time to sit down with The Hollywood Reporter while promoting the show in the States, and Robert Irwin confirmed that he felt the same way. "Bindi and I feel really blessed to be in a position where we can inspire so many people and really keep dad's mission and his dream alive, because he was totally the most passionate and enthusiastic person on the planet when it came to wildlife, and he really instilled that passion in us," he revealed. For Bindi, just keeping the zoo running day-to-day is part of that mission. "It's almost like every day is a tribute to his life," she told CBS.
Bindi Irwin's daughter's name is a tribute to her fierce father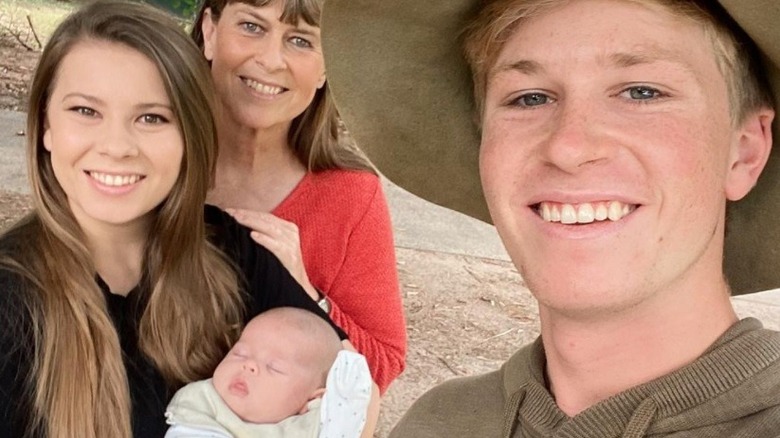 Sadly, Bindi Irwin's wedding to longtime American beau Chandler Powell didn't go as planned in 2020. The nuptials fell victim to some last minute rearrangements due to the novel coronavirus pandemic, and then the couple had to change plans once again when press helicopters began circling above Australia Zoo, spooking the animals in the Africa exhibit. Bindi's dream of getting married on the zoo's African savannah was dashed by the paps, but nothing could spoil the news of her pregnancy a few months later. "While I wish that Steve was here to share this beautiful moment, I know that he would be so proud," Terri Irwin tweeted after being told that she was going to be a grandmother.
Bindi revealed the name of her daughter on March 25, 2021, the one year anniversary of her wedding: Grace Warrior Irwin Powell. "Our graceful warrior is the most beautiful light," she captioned a Twitter pic of the happy family. "Grace is named after my great-grandmother, and relatives in Chandler's family dating back to the 1700s. Her middle names, Warrior Irwin, are a tribute to my dad and his legacy as the most incredible Wildlife Warrior." The birth of Grace (who already has her very own Australia Zoo khakis) was documented in Bindi and Chandler's spin-off special "Crikey! It's a Baby."
It's not about Steve Irwin, it's about his message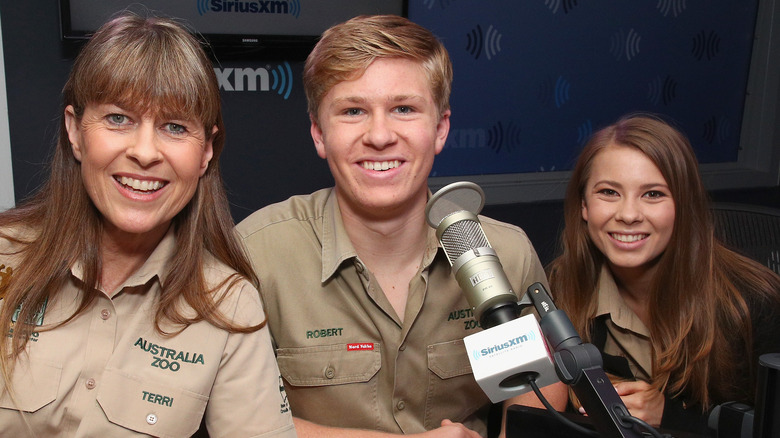 Bindi Irwin has stated on multiple occasions that fame was never important to her father. Steve Irwin was made for the screen, sure, but he created his shows with the sole purpose of changing attitudes towards conservation. "He always used to say, 'I don't care if people remember me, but I care if people remember my message and what I stood for,'" Bindi told E! News after she won "Dancing with the Stars" in 2015. "That's what we've dedicated our lives to doing." Bindi said pretty much the same thing when she spoke to BuzzFeed News in 2019, highlighting the continued importance of her father's work over his celebrity status.
Of course, while Steve didn't really care about being remembered, his kids still think about him all the time. "I miss him every minute of every day, especially on those milestone moments in my life and what would have been his birthday," Robert Irwin told Australia's "Studio 10" (via the Daily Mail). 
September 4 is another tough date for the Irwins. Instead of grieving, however, the family celebrates his life on the day that he died, and in 2020, his son marked the occasion by doing the most Steve Irwin thing ever — tracking and tagging crocodiles. "This research was all started by dad and to this day we still use the same methods of capture that he created," he said in an Instagram post.
Robert Irwin continues his dad's legacy through his photography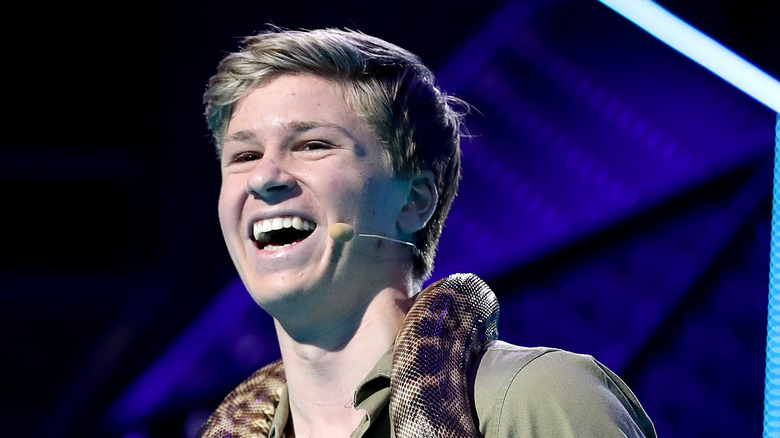 The fact that Robert Irwin lives at Australia Zoo gives him a distinct advantage over many wildlife photographers, but the son of Steve Irwin clearly has a natural talent for snapping animals in action. He started messing around with "a little point-and-shoot camera" at the age of 6, he told Australian Geographic. "From there, my love of photography developed and now I take my camera gear with me everywhere," he explained. 
Robert has taken some incredible snaps of snakes and crocs, though it's actually a photograph of a rhino that he captured during a visit to the family's conservation project in Kenya that he's most proud of. "One of the most moving experiences I had was when I photographed the last male northern white rhinoceros," Robert shared, who is using his skills with a camera to push his late father's message. The Kenya project "is also home to the last three northern white rhinos in existence, so it was incredible to see the last male, named Sudan," he added. Robert also said that being there was sad, and that he hopes his work will bring attention to the problem of poaching.
The Irwin kids are also doing their bit to help endangered animals in South Africa, where Bindi Irwin has spent time with the all-female anti-poaching unit, the Black Mambas.
Steve Irwin's kids did him proud during Australia's devastating bushfires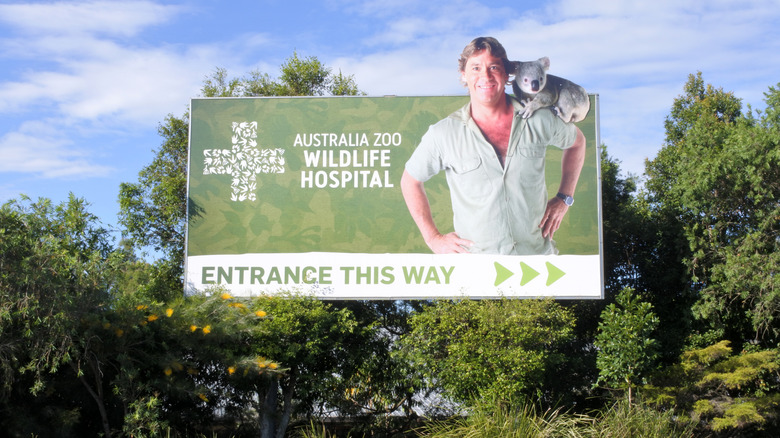 It isn't just animals that Robert Irwin photographs. The son of Steve Irwin likes to take snaps in the urban jungle whenever he happens to be in a city, and in 2021, he won a coveted photography award for a dramatic picture of a raging Australian bushfire. The image, entitled "A Line of Fire," was captured from a drone above Queensland's Steve Irwin Wildlife Reserve. 
The Crocodile Hunter's lookalike son beat out stiff competition from 24 other finalists to land the Wildlife Photographer of The Year People's Choice Award, a huge honor for the teen. "I feel it is particularly special for this image to be awarded, not only as a profound personal honor but also as a reminder of our effect on the natural world and our responsibility to care for it," Robert said after his win, per the BBC. 
That was the second time Robert had been in the news for bushfire-related reasons. In 2019, a spate of fires that would go on to consume 37% of national park land in New South Wales began. The Irwin kids "honor[ed] his legacy by helping over 90,000 animals" affected by the carnage, said the Irish Mirror. "With so many devastating fires within Australia, my heart breaks for the people and wildlife who have lost so much," Bindi Irwin said in an Instagram post.
Steve Irwin's kids already achieved his 'ultimate goal'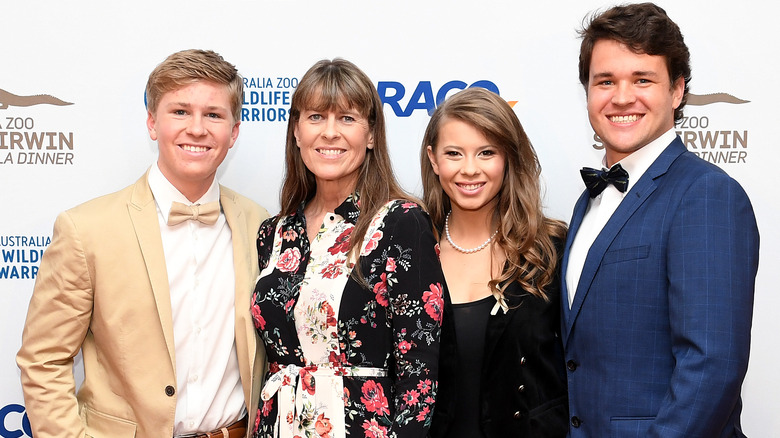 According to a heartbreaking video of the late Steve Irwin that his daughter shared via Instagram in 2018, his kids have already achieved his "ultimate goal" in life. In the unearthed clip (which Bindi Irwin had only just seen for the first time herself a few days prior), the conservationist gets teary when he's asked about his future plans. "Is there anything in this world that would make me wanna give away what I do now? Yes there is. When my children can take the football that I call 'wildlife conservation' and run it up," he proclaimed. "When they're ready to run our mission I will gladly step aside."
An emotional Steve goes on to reveal that his endgame was always to have his kids take up the khaki and spread his word, which Bindi and Robert Irwin have been doing wholeheartedly. "I guarantee you it will be the proudest moment of my life and my job will be done," he continued. "Then and only then will I know that I have achieved my ultimate goal: to be able to stand aside and let them run our mission." For Bindi, the clip vindicated her life choices and spurred her on to do even more in the future. "I promise to do my best to make you proud and ensure your legacy lives on forever," she captioned the post. With her mother, brother and husband by her side, she can't fail.
Source: Read Full Article