'All the Light We Cannot See' Trailer: Mark Ruffalo Leads Shawn Levy's Netflix Adaptation of Beloved Novel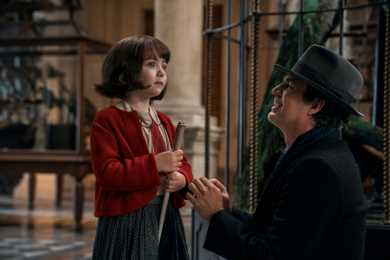 Mark Ruffalo is finding light in the darkest of eras.
The Oscar nominee leads Netflix's "All the Light We Cannot See" four-part adaptation of Anthony Doerr's 2014 Pulitzer Prize-winning novel. Shawn Levy ("Deadpool 3," "The Adam Project") directs the limited series set during World War II.
Per the official synopsis, based on the Pulitzer Prize-winning novel, "All The Light We Cannot See" follows the story of Marie-Laure (played by Aria Mia Loberti and Nell Sutton in different eras), a blind French girl and her father, Daniel LeBlanc (Ruffalo), who flee German-occupied Paris with a legendary diamond to keep it from falling into the hands of the Nazis.
Pursued by a cruel Gestapo officer who seeks to possess the stone for his own selfish means, Marie-Laure and Daniel soon find refuge in St. Malo, where they take up residence with a reclusive uncle who transmits clandestine radio broadcasts as part of the resistance. Yet here in this once-idyllic seaside city, Marie-Laure's path also collides inexorably with the unlikeliest of kindred spirits: Werner (Louis Hofmann), a brilliant teenager enlisted by Hitler's regime to track down illegal broadcasts, who instead shares a secret connection to Marie-Laure as well as her faith in humanity and the possibility of hope.
Interweaving the lives of Marie-Laure and Werner over the course of a decade, "All The Light We Cannot See" tells a story of the extraordinary power of human connection — a beacon of light that can lead us through even the darkest of times.
Hugh Laurie, Lars Eidinger, and Marion Bailey also star.
The series is written by Steven Knight ("Peaky Blinders") and is produced by director Levy's 21 Laps Entertainment, along with Dan Levine and Josh Barry as executive producers. Knight also serves as an executive producer, plus Joe Strechay as an associate producer and blindness and accessibility consultant.
Production took place in Budapest, Hungary and Saint Malo, France. The novel spent more than 200 weeks on the New York Times Best Seller list and has sold more than 5.7 million copies in North America across print, e-book, and audio formats and another 9.5 million copies worldwide.
"All the Light We Cannot See" premieres November 2 on Netflix.
Check out the teaser below.
Source: Read Full Article