All Creatures Great and Small star forced to change scene after injury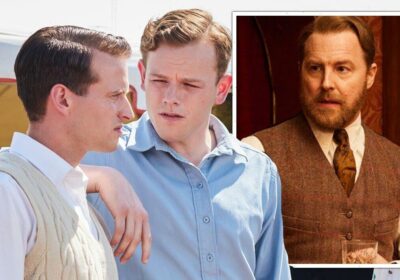 All Creatures Great and Small: Shenton shares 'insight'
We use your sign-up to provide content in ways you've consented to and to improve our understanding of you. This may include adverts from us and 3rd parties based on our understanding. You can unsubscribe at any time. More info
All Creatures Great and Small will return later in 2022 with a Christmas special and in the meantime, fans are keen for more insight into how the series is made. In the book The World of All Creatures Great & Small: Welcome to Skeldale House, director Andy Hay explained how he had to change a scene after actor Samuel West pulled a muscle in his leg and snapped a tendon.
Fans of the escapist drama will remember an iconic scene in season two when the Skeldale House vets have to step in for a cricket match.
Preparing for the scene, Siegfried Farnon actor Samuel was practicing in the nets when he pulled a muscle in his right calf.
His leg had to be strapped up and he was limping, but this was only the beginning.
On the final day of the shoot, Samuel was running when he snapped the Achilles tendon in his left leg.
He was taken off to the Accident and Emergency department at Ripon Community Hospital in a lot of pain.
This also meant director Andy had a problem on his hands as in the story, Siegfried was supposed to be run out during the match.
If Samuel was unable to run, this part of the storyline would have to change.
"I had to think quickly – Siegfried can't just disappear in this episode," Andy said.
"I'm going to have to rethink how I tell the story". Andy needed Siegfried to be out as the batsman so that James Herriot (Nicholas Ralph) could be brought in.
Andy explained: "In the middle of the cricket pitch I reviewed all the shots we had so far.
"There was one take of Siegfried batting where he hit the ball high enough to look like it could be caught.
"While Sam was at the hospital we shot the reverse of that, so we had a fielder catching the ball, which appeared to be the one Siegfried had just hit.
DON'T MISS…
Bake Off star speaks out on Paul Hollywood's real persona [INSIGHT]
All Creatures Great and Small star had to make some 'judicious edits' [INSIGHT]
All Creatures Great and Small star on Siegfried's 'difficult' past [INTERVIEW]
"And I found another shot from a different scene of Siegfried looking dismayed, slightly disappointed, at how James was playing as a fielder.
"In another context, it looked exactly like Siegfried was thinking, 'OK, fair enough, I'm out'."
With this solved, he had one more problem with the final scene to overcome, where Siegfried should have been in the marquee, moving among the crowd.
Samuel did end up returning to the shoot with his leg in plaster, and he was carried around the set on a rickshaw.
Andy said: "We placed Sam on the rickshaw and wheeled him to the shade of the marquee and kept him there until we were ready to shoot the final scene."
He changed up the idea of how to shoot the final scene as Samuel was placed on a tall bar stool, drinking a pint.
He was filmed from the waist up through an open shutter from inside the cricket pavilion.
Thankfully, this was something he could manage without any issues.
The World of All Creatures Great & Small: Welcome to Skeldale House is out now in paperback for £9.99 from Michael O'Mara Books
Source: Read Full Article