All Creatures Great and Small season four release date confirmed by Channel 5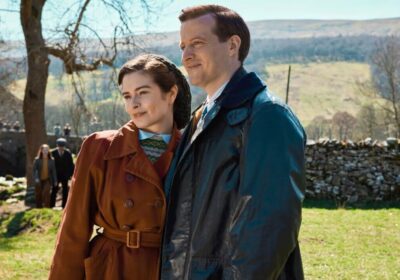 All Creatures Great and Small: Shenton shares 'insight'
It's time to head back to the Yorkshire Dales, as the upcoming release date for the fourth season of Channel 5's All Creatures Great and Small has just been revealed by the channel. And fans don't have long to wait until the historical drama is back on screens.
The new episodes will start on Thursday, October 5 and will pick up the story in the spring of 1940, with change in the air for many of the beloved characters.
Comprising six hour-long episodes, this new season will be the first without Tristan Farnon (played by Callum Woodhouse), after he left to join the Royal Army Veterinary Corps at the end of the 2022 Christmas special.
It will no doubt be interesting to see how his absence is felt by everyone at Skeldale House, most notably his older brother Siegfried (Samuel West).
READ MORE All Creatures Great and Small's Helen and James 'to start family' as war rages
Even though viewers have expressed their sadness that Tristan will not be appearing in the latest season, this does follow the original source material; the bestselling series of books by British veterinary surgeon Alf Wight, which he released under the pseudonym of James Herriot.
Speaking of James, season four sees James (Nicholas Ralph) and Helen (Rachel Shenton) as they ponder when to start a family while the possibility of him being called up to serve in the Royal Air Force looms over them.
Don't miss…
All Creatures Great and Small actors 'kept apart' for heartbreaking storyline[INSIGHT]
All Creatures Great and Small confirm Tristan's replacement as new vet arrives[LATEST]
All Creatures Great and Small's Helen star shares hopes for season 4[COMMENT]
We use your sign-up to provide content in ways you've consented to and to improve our understanding of you. This may include adverts from us and 3rd parties based on our understanding. You can unsubscribe at any time. More info
In addition to this, there are some new arrivals to the village in the form of trainee veterinary student Richard Carmody (James Anthony-Rose), who is said to cause complications in the house. As well as bookkeeper Miss Harbottle (Neve McIntosh).
However, the loveable Mrs Hall (Anna Madeley) and Mrs Pumphrey (Patricia Hodge) are set to return.
Other guest stars who have been confirmed for the new season include Tony Pitts as Richard Alderson, Imogen Clawson as Jenny Alderson, Will Thorp as Gerald Hammond, Paul Copley as Ned Clough, James Bolam as Mr Dakin, Cleo Sylvestre as Anne Chapman and Sam Retford as FO Woodham.
As well as James and Helen's story arc, the show's creators have teased some more upcoming storylines, as Siegfried attempts to hold the growing household – and himself – together as he braves this new world without his brother.
Then there's Mrs Hall and Helen's friendship, which continues to blossom as they look to the future.
Filming for the new season took place earlier this year, from March to July and fans will be happy to know that a 2023 Christmas special is also on the horizon.
All Creatures Great and Small is available to watch on My5.
Source: Read Full Article