AGT viewers get emotional over 82nd Airbourne Division as veterans weigh in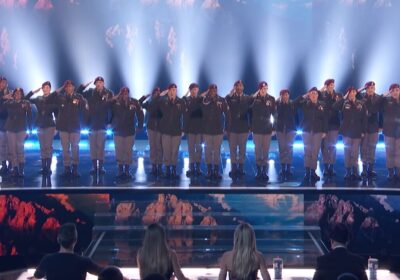 Simon Cowell apologises to America's Got Talent contestants
As the 18th season of America's Got Talent heads to its final shows, the 11 finalists have officially been chosen for next week's penultimate performance. 
Among the talented group is the 82nd Airborne Divisions' choral group, who had a sensational performance earlier this week with a rendition of P!nk's I Am Here. 
The song moved some viewers to tears as they took to X, formerly known as Twitter, to share their support. 
Amid the throngs of adoring fans, some with special connections to the division shone through. 
One viewer shared: "We are America's guard of honor. I am a vet 11b2p 82nd Airborne."
READ MORE: AGT viewers slam Howie Mandel for buzzer 'lie' forcing Simon Cowell to apologise
Echoing the song's meaning, they added: "We stick together no matter what."
Another added: "I am here. I know that I will be ready when the devil is near! 
"That is very reassuring! My brother was 82nd airborne, tears, hot tears!"
Countless viewers declared it was a "great" and "amazing" performance, with some sharing similar sentiments: "Thank you for your service as well as all our military men and woman!
Don't miss…
AGT's Sofia Vergara flashes her cleavage in a plunging glitzy top[PICTURES]
Simon Cowell planning to make son Eric take over role on America's Got Talent[INSIGHT]
Simon Cowell's 'absolute torture' over son Eric's dreams of being a drummer[LATEST]
We use your sign-up to provide content in ways you've consented to and to improve our understanding of you. This may include adverts from us and 3rd parties based on our understanding. You can unsubscribe at any time. More info
"God bless these men and women for their sacrifice of protecting us!"
The moving number even brought the sternest of judges to their feet as Simon Cowell gave the group a standing ovation during the live taping of the NBC show. 
The 63-year-old explained: "I'm on my feet and I speak for everyone here when I say thank you for your service."
He went on to thank the group for their song choice as he appreciated that it wasn't an "obvious" pick and declared them "one of my favorite acts this year". 
The military choir is made up of service men and women from North Carolina, with Sergeant Matthew Smith saying just before stepping on stage: "We are used to jumping out of planes so this live show performance… We've got this."
Next week's two-night finale will see the choral group going up alongside 10 other finalists including five golden buzzer acts. 
Singer Lavendar Darcangelo got the golden buzzer from Heidi Klum while dance group Murmuration received Howie Mandel's. 
Simon hit the golden buzzer for 17-year-old Indonesian singer Putri Ariana and the Mzansi Youth Choir got the audience's golden buzzer while shadow dance group Chibi Unity got the group's golden buzzer from the judges. 
America's Got Talent season 18 continues Tuesdays and Wednesdays on NBC.
Source: Read Full Article