After Selling 600K Tickets In 2 Days For His World Tour, Comedian Matt Rife Sets First Netflix Standup Special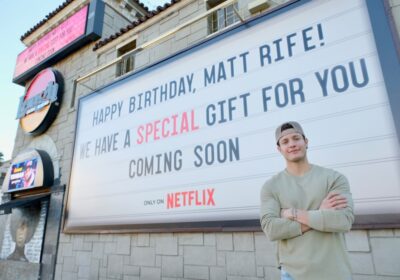 Comedian Matt Rife has had an astronomical rise.
Last summer, the 27-year-old from North Lewisburg, Ohio struggled to sell a hundred tickets a show. But earlier this year, when he announced his ProbleMATTic World Tour, he sold around 600,000 tickets over the span of just 48 hours.
Now, after two self-released specials, he has scored his own Netflix special.
Related Stories
How Comedian Matt Rife Pulled Off Stratospheric Rise From Pandemic-Era Pickup Truck Stand-Up To A Sold-Out Global Tour With Live Nation
Comedian Matt Rife Sets His First World Tour With Live Nation; Ashton Kutcher Grants A Wish In Promo
Rife will film the hour-long special – Matt Rife: Natural Selection – on September 22 and 23 at DAR Constitution Hall in Washington DC.
The streamer also celebrated Rife's upcoming birthday on Sunday, by giving him his own billboard outside The Laugh Factory in LA.
Produced by Irony Point and exec produced by Rife and his longtime manager Christina Shams, the special will premiere on the streamer later this year.
It comes after Rife, who has spent 12 years on the road, broke out during Covid, when he and comedian friend Paul Elia launched Lowkey Outside. A semimonthly, socially distanced comedy show, spun off from one they'd done at The Comedy Store pre-pandemic, Lowkey saw the pair performing for small crowds from the bed of a pick-up truck, in the back of apartment complexes and event spaces across Los Angeles.
He has also gone viral on TikTok, where he has over 16.7M followers and more than 5B views.
Rife previously self-produced and distributed through YouTube his first one-hour comedy special, Only Fans, which garnered 9.8 million views. He then self-released his second special, Matthew Steven Rife, on YouTube which was taped in Austin, Texas before putting out a crowd work-focused special in June.
Rife told Deadline that the "idea and route of traditional success in comedy doesn't really exist anymore".
"It's so much fewer and far further between now. You'd get a late night show for five minutes, and then you'd do Montreal, and then you'd get a TV series, and then Netflix or Comedy Central picks you up for a full special. That really doesn't happen now. The entertainment industry has gotten so lazy via social media, and social media does provide everybody kind of an opportunity to get seen and build an audience," he said.
Rife, who made his television debut on MTV's Wild 'n Out, added that the new material is "so fun for me".
"The first half of it is so silly and ridiculous and fun, and the second half is some stuff I actually got to pour some thought into, which, if you've watched either of my previous specials, I kind of like to end the last of it with something people can think about, and put some thought behind, and give some real perspective on something I genuinely am passionate about, as well as making it funny with a fun story," he said. "I'd say it's my most fun hour yet. I think people are really going to like it. There's something in there for everybody."
Rife is repped by Christina Shams at Avesta Entertainment, CAA and Felker Toczek Suddleson Abramson McGinnis Ryan.
Must Read Stories
Quentin Tarantino's Final Film Snags Big Tax Credits From California, Will Shoot In L.A.
'Conjuring' Universe Sequel 'The Nun 2' Collects $3.1M In Thursday Previews
Lulu Wang Reveals How Nicole Kidman Persuaded Her To Make 'Expats'
Surprise Guest At 'Boy And The Heron'; Opening-Night Reviews; Photo Gallery
Read More About:
Source: Read Full Article