Adam Scott Recalls His Reaction to Jennifer Garner Joining 'Party Down': 'We Need to Get Our Sh*t Together'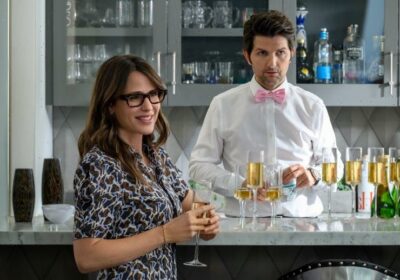 When "Party Down" was cancelled by Starz in 2010, fans of the cult sitcom immediately started clamoring for more. The show's long-gestating reboot has taken on many potential forms over the past decade — a "Party Down" movie was written but ultimately scrapped — before Starz ordered an additional six episodes of the series.
The new episodes, which began airing on Starz this weekend, feature the majority of the original show's ensemble cast reprising their roles for six new parties. Many fans were understandably disappointed by the absence of Lizzy Caplan, who couldn't participate due to scheduling conflicts but plans to be back for any future seasons. But there are also some exciting new faces — including Jennifer Garner, who plays Henry Pollard's new love interest Evie Adler.
Speaking to Entertainment Weekly, "Party Down" star and executive producer Adam Scott recalled how the show pulled off the ultimate longshot casting by landing Garner.
"I've always been a huge fan of Jennifer's and wanted to work with her, and had never even met her," Scott said. "When we were talking about the character in Evie, Jennifer Garner was one of the people we thought of like, 'Someone like Jennifer Garner' — she's the epitome of who this character is, someone with poise and sophistication, and super funny — but never thinking that Jennifer Garner is someone we would actually get to be on 'Party Down.'"
The team ended up taking a chance and offering the role to Garner, and were pleasantly surprised to learn how interested she was. But that excitement was quickly followed by the realization that the cast might need to act more professional on set when the four-time Emmy nominee was around.
"We were talking about her so much, so why don't we just throw it her way, and when she passes, we'll figure out who is actually going to play this role" Scott said. "Little did we know, she likes 'Party Down' and said yes pretty quickly. It took us all by surprise, and we realized, 'Wow, we need to get our shit together, Jennifer Garner's going to be on the set and we're all idiots! Let's make sure everything's legit, because there's a real professional coming.' But she was so fun and so cool and hilarious, I just loved working with her."
The Season 3 premiere of "Party Down" is now available on the Starz streaming and on-demand platforms, with new episodes releasing each week.
Source: Read Full Article