3 big Emmerdale spoilers as couple split and Chloe goes into labour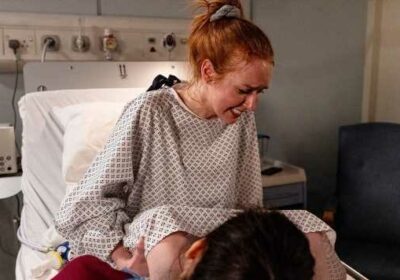 Emmerdale: Mary and Faye enjoy family meal
ITV soap spoilers have officially revealed which storylines will unfold next week on Emmerdale – and they involve divorce, labour and even an arrest. The week will focus on Chloe Harris (played by Jessie Elland) going into labour with Mackenzie Boyd's (Lawrence Robb) baby as he prepares to marry Charity Dingle (Emma Atkins). The attention will also turn to Paddy Kirk (Dominic Brunt) cutting ties with his adulterous wife Chas Dingle (Lucy Pargeter).
Paddy files for divorce
In upcoming scenes, Paddy reveals he has been in touch with a solicitor and is ready to divorce Chas.
She's taken aback to hear about the divorce proceedings as she is still in love with the village vet.
However, Paddy has no plans on changing his mind and he suggests they make a joint application to speed up the process.
Will Chas agree with Paddy or will she try and fight for the marriage?
Chloe goes into labour
Chloe decides to have a pamper night with Sarah Sugden (Katie Hill) but panic soon sets in when Chloe's waters break.
She's taken to the hospital and her contractions continue, but she tells Sarah to leave and get ready for Charity and Mack's wedding.
Will the baby come out safely while the whole village is watching Mack and Charity tie the knot?
Could the secret about the father finally come out after the baby is born?
Mack and Charity get arrested
Mack surprises his bride-to-be with a replica of the A-Team van to remind him of his favourite programme as a child.
He and Charity get dressed up as the characters and go out for a spin.
However, it all goes awry when they are caught getting frisky while parked up on a country road by a police officer who informs them the van has been used in a robbery.
The pair then get arrested and are locked away in cells with their wedding a matter of hours away.
Don't miss…
3 people that could be Nicky's mum in Emmerdale[THEORY ]
Emmerdale's Mark Jordon rages over fake manager discovery[LATEST]
Emmerdale horror as naked picture of Bernice circulates[LATEST]
Gabby questions Nicky's marriage proposal
Gabby Thomas (Rosie Bentham) begins to question why Nicky Milligan (Lewis Cope) wants to marry her so quickly.
The pair haven't even known each other for a year and he shocked the village when he got down on one knee.
Viewers know it is part of a master plan to take over Home Farm, but will Gabby learn the truth if he's not careful?
Nicky is Caleb Milligan's (Will Ash) secret son and the pair wants to ruin Kim Tate's (Claire King) life and take everything she owns.
Noah supports a tearful Amelia
Noah Dingle (Jack Downham) tries to reassure Amelia Spencer (Daisy Campbell) by telling her the lump on her breast probably isn't cancer.
However, all Amelia can think about is the worst as she is worried her daughter will be left with Samson Dingle (Sam Hall).
While Samson is the baby's dad, he has made it clear he doesn't want the youngster.
Emmerdale airs on weeknights at 7.30pm on ITV and ITVX.
Source: Read Full Article