1923's Brandon Sklenar drops worrying Spencer Dutton death hint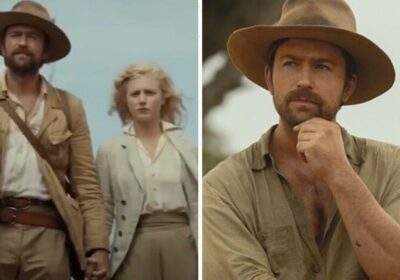 1923 episode five teaser from Paramount+
We use your sign-up to provide content in ways you've consented to and to improve our understanding of you. This may include adverts from us and 3rd parties based on our understanding. You can unsubscribe at any time. More info
After receiving an urgent letter demanding his return to Montana, Spencer Dutton (played by Brandon Sklenar) embarked on the treacherous journey home. After being swept under the crashing seas, the Paramount drama's actor teased his character's imminent death.
1923 transported Yellowstone fans around 35 years before John Dutton (played by Kevin Costner) was born as it was set during Prohibition and the Great Depression.
While his family tended to their Montana ranch, Spencer decided to move to Africa where he worked as a hunter for hire, killing predators that plague human settlements and camps.
After suffering trauma from serving in WWI, he decided to lead a nomadic life in Africa, alongside his fiancée Alexandra (Julia Schlaepfer).
His new life was put on hold after a letter from the Dutton ranch demanded his return following a brutal attack on his family.
The tragic shoot-out left John Dutton Sr (James Badge Dale) dead and Jacob Dutton (Harrison Ford) gravely wounded.
As a result, Spencer gathered his things and took off, but in true Yellowstone fashion, the journey took an unexpected turn after the captain suddenly died.
With neither Alexandra nor Spencer knowing how to steer the boat, it crashed, leaving viewers on the edge of their seats as they were swept under the ocean.
As fans are eager to see if the beloved couple survived the journey, Spencer star Sklenar opened up about his character's fate.
Without giving too much away, he told Deadline: "Spencer is pretty resilient, but no one is off the table.
"If you know Taylor [Sheridan]'s writing, anything can happen at this point," the actor teased.
Cara Dutton (Helen Mirren) needed Spencer back to man the ranch while Jacob recovered from his injuries after being savagely attacked by Banner Creighton (Jerome Flynn).
During the episode, titled Ghost of Zebrina, Cara went back to the post office to see if Spencer had responded but there was nothing.
John's wife Emma Dutton (Marley Shelton) struggled to come to terms with his death as she looked distraught and stared at the grave they'd dug for him.
Cara revealed she had sent a doctor for Emma whose grief had completely taken over her life.
Cara told her: "I will not spoon-feed and bathe two, Emma. You have a child, he needs you!"
Despite this, Emma couldn't see a way forward as a single shot could be heard from her room at night.
The next day, the Dutton family stood over Emma's grave where they buried her.
Her death was a huge setback for the family, who also had to deal with Banner's plot to get rid of them.
Wealthy businessman, Donald Whitfield (Timothy Dalton) showed Banner a map of the Duttons' ranch and said he believed it was ripe with minerals.
To which Banner hit back: "We will choke this Dutton out, I want it all. I want the whole valley."
1923 continues Sundays on Paramount Network in the USA and on Paramount+ in the UK.
Source: Read Full Article