1923 finale teases Spencer and Alexandra 'lost at sea'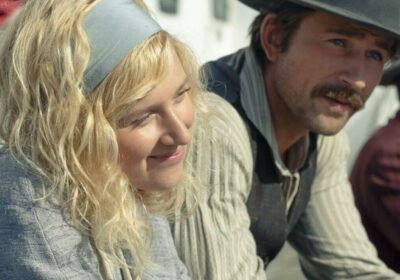 1923 episode 8 promo teaser from Paramount+
We use your sign-up to provide content in ways you've consented to and to improve our understanding of you. This may include adverts from us and 3rd parties based on our understanding. You can unsubscribe at any time. More info
Yellowstone fans have been watching with bated breath all season to find out if 1923 favourites Spencer Dutton (played by Brandon Sklenar) and his wife Alexandra (Julia Schlaepfer) ever manage to make it back to Montana. With just one episode of the smash-hit Paramount+ prequel's first season to go, a brand new look at this Sunday's finale could have fans worried about the young lovers' fate.
New details have emerged for the season finale of 1923, and things aren't looking up for Jacob (Harrison Ford) and Cara's (Helen Mirren) nephew.
A brand new batch of stills from Sunday night's episode, Nothing Left to Lose, have been released featuring most of the main cast.
Unfortunately, Spencer and Alexandra still appear to be at sea after their already long and arduous journey back to the States.
The synopsis for the finale reads: "The feud between Donald Whitfield (Timothy Dalton), Banner Creighton (Jerome Flynn), and the Duttons reaches the point of no return."
Get Paramount+ For Free
£6.99 £0 View Deal
When you subscribe to Sky Cinema, you'll unlock hundreds of hours of television shows and movies to binge! It's all thanks to a free subscription to Paramount+ (usually £6.99 per month) to watch on your Sky Glass, Sky Q, or on any device with a Paramount+ app
"Spencer and Alexandra encounter a different kind of peril on their passenger ship home."
Finally: "Marshalls track Teonna Rainwater (Aminah Nieves), who finds a rare respite of hope."
While the escaped Native girl finally gets a moment of peace, the same can't be said for the Duttons' missing nephew and his British bride.
In the sixth episode of 1923, Spencer and Alexandra are married by the captain of the S.S. Lambridge when they're rescued from the middle of the ocean.
At the end of last week's outing, the pair find themselves in Sicily and are still looking for passage home when Alexandra unexpectedly runs into her former fiancé.
He won't be happy to see her with a new husband just weeks after abandoning him in Africa, and could cause another interruption to their journey.
Thankfully, the first-look at the episode does confirm they eventually make it onto another ship, but they may not make it to America until the start of 1923's second season.
Sklenar teased Deadline: "I don't think it gets easier for anybody. That's as much as I can say as the journey unfolds."
DON'T MISS:
Grey's Anatomy fans brand Ellen Pompeo's exit 'worst episode ever' [BACKLASH]
Law and Order fans fuming as NBC drama takes month break [LATEST]
Outlander fans thrilled as season 7 finishes filming [NEWS]
The actor's comments and the synopsis definitely suggest something sinister is afoot on their new vessel.
While the series is unlikely to capsize their ship for a second time, someone or something on their journey is going to throw a wrench in their plans to return to the Yellowstone Ranch.
Perhaps Spencer runs into an old rival who's determined to make life miserable for Spencer and Alex for the remainder of their trip?
Alternatively, they could be faced with an impossible choice if one of them is rendered sick or injured.
Meanwhile, back at home, Jacob, Cara and their other nephew Jack (Darren Mann) face their toughest battle yet as Creighton and his men start to close in on the ranch.
One image sees Jack clutching his own wife Elizabeth (Michelle Randolph) closely as they await the impending war, as well as the arrival of their first child.
Thankfully, lead actor Ford has confirmed Jacob will survive and be back in the saddle for 1923 season two, but the rest of the family may not be so safe from the coming storm.
1923 season 1 concludes Sunday, February 26 on Paramount+.
Source: Read Full Article