WWE fans convinced Jeff Bezos will make a shock appearance after being spotted next to Triple H at NY Fashion Week | The Sun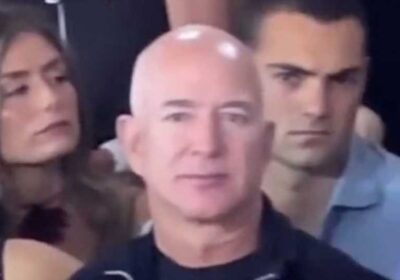 WWE legend Triple H shocked fans after appearing at New York Fashion Week with a billionaire business mogul over the weekend.
The WWE's Chief Creative Officer Paul "Triple H" Levesque was seen in a video with Jeff Bezos at the famous fashion event, sparking fans to speculate a shock appearance from the Amazon founder & executive chairman.
The footage showed Triple H sitting with Bezos and Endeavor CEO Ari Emanuel.
Vince McMahon announced in April that he agreed to sell the WWE to investors from the Endeavor group for $9.3billion, and this video of the group furthers how that transition is finalizing. 
The video displays the group watching the models take the runway for the NYFW, including WWE superstar Maxxine Dupri.
WWE fans were convinced the video was a sign that Bezos would appear in a wrestling event.
One fan said: "Bezos to the WWE?"
Another: "I can't wait to see if Bezos does anything in the WWE."
A third: "WHY ARE YOU AT NYFW WITH BEZOS AND ARI WHAT ARE YOU DOING TELL US."
And a fourth joked: "This is the most random link-up of supervillains ever."
The WWE's deal is expected to be finalized tomorrow, meaning that both WWE and UFC will be under the same umbrella.
Monday's episode of RAW will be the last under McMahon's sole control.
The day-to-day operation will remain the same as Tripple H's current position as the head of creative.
McMahon won't be out of the picture entirely as he is set to still contribute to running the company.
He will serve as the Executive Chair of the new enterprise while owning 16%.
Source: Read Full Article