What Tyson Fury told Jake Paul in the ring moments after fight with brother Tommy in behind-the-scenes footage | The Sun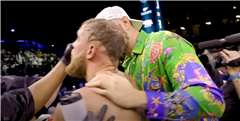 TYSON FURY was captured sharing a moment of embrace with Jake Paul after his brother Tommy's fight.
The WBC heavyweight world champion was a ringside viewer in Saudi Arabia to watch the celebrity grudge match.
And behind-the-scenes footage from Top Rank caught the moment Tyson, 34, went over to Paul, 26, to congratulate him on the fight.
He said: "Well done Jake. Good fight, brother. Very, very impressed. Well done."
A nervy wait then followed before Tommy was declared the winner via split-decision.
It ended two years of feuding between the famous boxing rivals and the two also came together to pay their respect.
READ MORE IN BOXING
Win an incredible Rolex Batman or £12k cash alternative from just 89p
Fans baffled by Tommy Fury's appearance on Loose Women after Jake Paul win
Tommy, 23, told Paul: "You're a tough man, you'll go a long way. You started three years ago, I started when I was six.
"I've got nothing but love and respect for you. Great build-up, great fight."
The fight is believed to have been a box office blockbuster, bringing in a reported 775,000 pay-per-view buys.
And Paul looks set to exercise his right to a rematch, with a second fight rumoured to be eyed for the summer.
Most read in Boxing
Fury v Usyk is 'UNLIKELY' with another Brit lined up to fight Ukrainian
Fury hits back at criticism after leaving baby Bambi behind for Paul fight
Jake Paul calls out Mayweatherto a 'real fight' after turning down exhibition
Carl Frampton in awkward exchange with Tommy Fury after backing Jake Paul