Week 10 Field Pass: Potential impact of Josh Allen injury, how to value JuJu Smith-Schuster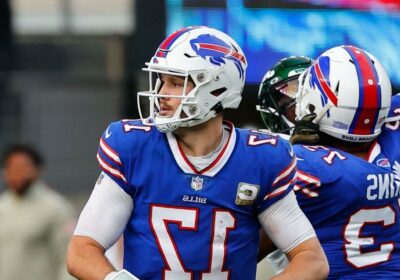 Field Yates has previous experience interning with the New England Patriots on both their coaching and scouting staffs. A graduate of Wesleyan University (CT), he is a regular contributor to ESPN Boston's Patriots coverage and ESPN Insider.
Each week during the 2022 NFL season, Field Yates will help fantasy football managers by providing the precise intel needed on the most important, fantasy-relevant storylines. Field's Rolodex is vast; he'll dial up whomever he needs. This is the Field Pass.
The best player in fantasy football this season has been Bills quarterback Josh Allen. Despite having played just eight games this season (the Bills have already crossed their bye week), Allen has scored 8.42 more points than any other player in the league (Tyreek Hill is second) and is averaging 26.9 points per game, 1.4 more than the closest player, Patrick Mahomes.
Now, it stands to reason that a quarterback will be the highest-scoring player in fantasy, but that should not mitigate the brilliance of Allen's work.
He is currently day-to-day with an elbow injury suffered near the end of Buffalo's Week 9 game, leaving his status in a heavyweight matchup against the Vikings on Sunday uncertain for now.
For fantasy purposes, the equation is simple: If he plays, you play him.
But replacing Allen is an impossible task under any circumstances, and given how mediocre quarterback play has been this season in fantasy, it's especially tricky. We've belabored the point about how unspectacular usual fantasy QB stars have been (think Tom Brady, Aaron Rodgers, Russell Wilson, Matthew Stafford, etc.), and there really haven't been that many signal-callers who have overachieved this year, either.
There was a clear and obvious priority add for anyone who has Allen: Justin Fields, whose rocket ship ascension over the past five weeks has him as the eighth-highest-scoring quarterback on the season at 18.3 points per game. More pertinent to the matter is that over the past four weeks, Fields has more fantasy points than any other player in the league. He was the highest-scoring quarterback in the league in Week 9, when he set the NFL record for the most rushing yards in a regular-season game by a quarterback with 178.
He was available in more than 52% of leagues when the week began, but that number shriveled during the first run of waivers, as he's now available in just 20% of leagues. If you're in one of the leagues that let him slide through, go grab him now.
For those of you who missed out on Fields, Daniel Jones and Jimmy Garoppolo are my next two favorite adds specifically for Week 10.
The other side of the Allen equation is what his health means for the value of his teammates. Wideout Stefon Diggs has been among the best players in all of fantasy this season, ranking second among wide receivers in fantasy points per game at 23.5. Diggs is too otherworldly to ever consider benching him, even if his stock is likely to take a dip with Allen off the field. The good news is that Case Keenum — Allen's replacement — is not only a solid backup but a quarterback with whom Diggs has chemistry from their season in Minnesota together in 2017 (Diggs had 849 yards and eight touchdowns that season). Diggs remains in the top-10 wide receiver conversation for me.
Beyond Diggs, fellow wideout Gabe Davis loses some of the ceiling that comes with playing with perhaps the strongest-armed quarterback in the entire league, as Davis' size and speed mesh seamlessly with Allen's rocket arm. The trouble is that Davis has been an up-and-down player this season in fantasy: He has three games with at least 16.4 fantasy points but four games with 6.7 or fewer points. He hasn't had four catches in a game since Week 1. Davis is still a fringe top-30 play, but the boom game is less likely without Allen.
I'm not sure any other Bills player sees his fantasy outlook change dramatically with this news. Tight end Dawson Knox has only one game with 10 or more fantasy points this season, and no other wideout or tight end has more than 182 yards for the season beyond Diggs, Davis and Knox.
No matter what way you slice it, any timed missed for Josh Allen would be a major, major bummer. He's as good as it gets in the NFL right now and here's to hoping that he's on this field this Sunday against Minnesota.
Let's take a spin around the NFL for more thoughts for Week 10's Field Pass.
The unstoppable Dolphins duo
We've written about Tyreek Hill's season in Miami previously in this space, but it feels like it's worth a revisit. Specifically, in conjunction with his teammate and fellow wideout Jaylen Waddle, as the two of them are more than halfway through what could be a historic season.
Source: Read Full Article