We live by the 'WORST' Premier League stadium – it's in desperate need of upgrade… it looks like a temporary building | The Sun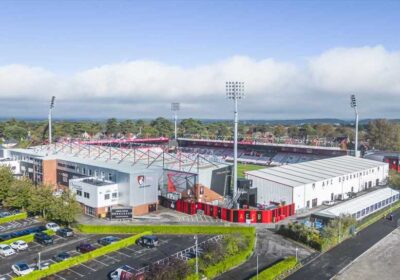 NEIGHBOURS living next to a stadium named the Premier League's worst say it's in desperate need of an upgrade – complaining that it looks like a temporary building.
Homeowners next to struggling Bournemouth's Vitality Stadium aren't surprised a new study has ranked it bottom of a new table for English football's top flight.
Analysts have rated all 20 Premier League grounds based on four main factors including appearance and matchday experience.
The Cherries currently sit in the relegation zone, with pressure mounting on new Spanish manager Andoni Iraola despite the fact he was only appointed this summer.
And neighbours aren't surprised the club have been placed so low in the new stadium study by The Athletic.
Richard Jones, who lives in a detached house behind the 11,308-capacity ground's North Stand, blamed its small size.
Read More On Bournemouth
NEIL ON THE HEAD
Fans praise Gary O'Neil as Sky provide insight into pre-match tactics
ONE AND-ONI
Bournemouth boss Iraola could be first Premier League manager sacked this term
He pointed to the club's rise through the divisions over the past decade, suggesting it would rate better were they still in the third tier.
Mr Jones, 49, said: "Compared to other stadiums in the Premier League, the ranking doesn't surprise me.
"I'd imagine the size is a big factor into why it ranked at the bottom.
"For a League One team it serves its purpose, but for a Premier League team it is in need of an upgrade.
Most read in Football
ACE'S AGONY
Liverpool star's parents are 'kidnapped by two men who ambushed their van'
NOT WORTH IT
Gareth Ainsworth SACKED as QPR manager with Hoops six points from safety
DEFOE DOES DOUBLE
Defoe seen with woman at hotel days after taking girlfriend to awards do
BELL OF THE BALL
Inside Bellingham's incredible El Clasico debut as he breaks Zidane record
"If you compared it to other League One stadiums, it would rank quite highly."
There were also suggestions the ground – previously named Dean Court and first opened in 1910 before being renovated in 2001 – still looked "temporary".
Victoria Leamon, 46, said "The stadium itself is fine but I would say it definitely looks temporary.
"However, the atmosphere and accessibility for fans is a good thing."
Michael Veater, 65, also agreed with the bottom-place rating but insisted he didn't think it an awful venue.
He said: "It's not too bad but it's quite a small stadium compared to others, which is why it might rank low.
"I wouldn't say it necessarily lacks character or even looks that temporary."
But another resident, who didn't want to be named, said: "It is probably not the prettiest of buildings.
"You get a lot of noise on match days and parking can be a nightmare but it is not that off-putting."
The Vitality Stadium is in the Boscombe suburb of seaside town Bournemouth, Dorset.
Club chairman Bill Foley spoke recently about his hopes of building a new stadium nearby or redeveloping the Vitality, boosting capacity to 20,000.
The ground was damaged by Storm Eunice in February last year, forcing the club to postpone a match against Nottingham Forest.
The Sun Online has approached Bournemouth for comment.
The new table was topped by Tottenham Hotspur's £1billion, 62,850-seat ground which opened in 2019 and also stages NFL matches as well as pop and rock gigs.
Artists who have performed at the stadium in north London include Beyoncé, Guns N' Roses and Lady Gaga.
Read More on The Sun
marriage over
James Haskell breaks his silence on shock split from Chloe Madeley
SEE FOR YOURSELF
Bizarre cat litter & sock hack will stop car windows fogging up in winter
But a separate recent study rated a different Premier League stadium best of the lot, based on atmosphere, the cost of a pint, quality of food and Google reviews.
British venues such as Celtic Park, Wembley and Manchester United's Old Trafford made it into a table ranking the world's best grounds.

Source: Read Full Article